According to a survey, while managing, replying, and sharing emails with clients, colleagues & customers for various tasks and follow-ups – employees spend nearly 28% of their week's work on Email management. That's 11 hours a week! Isn't that a huge count? To reduce this while maintaining the email management workflow – nowadays there are huge numbers of team email management software launched by IT vendors.
Advantages of Team Email Management Software
Well, we have enough reasons for you to consider the email management system that you must plan to bring in for team collaboration. Help your team to manage dozens or tons of emails on-time and you see how swiftly they will respond to each priority email. Here we have some points for you to ponder upon. 
Limit Response.

The best email management tools magnify the strength of emails potential. So, eradicate multiple responses for a single email by your team members.

Team Collaboration.

Team email management system can bring all members in one place to communicate.

Understanding Relevancy.

The team can know which email is regarding what context by getting collaborated. This will help the concerned person to solve ongoing problems promptly with the help of other teammates.

Smart Features.

Stay organised with features like shared email folders, e-Discovery, email retention, tags, advanced filters, and many more such options. You can get it in a good team email management software.

Email Automation.

Automate the email management workflow. Save a huge amount of time by assigning the emails or complete email folders to your colleagues to work simultaneously. 

In-Time Response.

No delay in responses. Deadlines are manageable by timely automated follow-ups that not only increase your work efficiency but your client/ customer experience too.

Quick Resolution

. Investment in a strong email management software that can help resolve queries which are previously addressed. You can add comments, attach images, or any referenced document too on the comments.

Email History

. A correct email management tool can help you collaborate behind the scenes. With comments, add notes, saved documents, get a complete chat history on various tasks/ activities, or any reply/ query.

Easy Sharing

. Get the insights of a customer and bring it to your team member's notice by tagging your colleague. Sharing notes with your internal team is easy without letting the customer see it.
So, grab all the above benefits by investing in an email management software tool that fits your organisation requirements. Target Integration is a premium Zoho Partner and will recommend you to try Zoho Mail. A cloud-based product loved by millions.
Learn from our team of Zoho developers and experts on how your team members can perform efficiently.
With email management automation workflow, they can get enough time to focus on more productive work. – get better work done instead of just managing emails in their Inboxes half of the day.
We consider email management as a tough skill, but we can help you make it manageable with powerful Zoho Mail features. Interested to know more? Read here our Zoho Mail product page. Get detailed information or get in touch with us to discuss your requirements on Email hosting services and Email management system migrations.
Benefits of using Zoho Mail as Team Email Management Software

Data Privacy

– Zoho Mail is intact with their data privacy policy and never share your data to the third party.

Secure

– It is a secure email management system.

Ad-Free Email Hosting

– Zoho Mail has a secure & ad-free email hosting service for your business.

Encryption

– You can host your business emails on encrypted and privacy guaranteed email management services.

Reliable

– Zoho Mail data servers are reliable with near about 99.9% uptime.

Branding

– Get authentic visibility by creating custom, unique and professional email addresses.

Mobile App

– With the powerful desk email management software, it is also available as a Mobile App. 

Migration

– It is easy to migrate from a previous email management system to Zoho Mail. Migration tools and POP/IMAP migrations options are available.

Integrations

– There are various Zoho products like

Zoho CRM

with which we can integrate Zoho Mail. With Zoho CRM integration with Zoho Mail, get the best usability.
Know how Zoho Mail features can benefit your organisation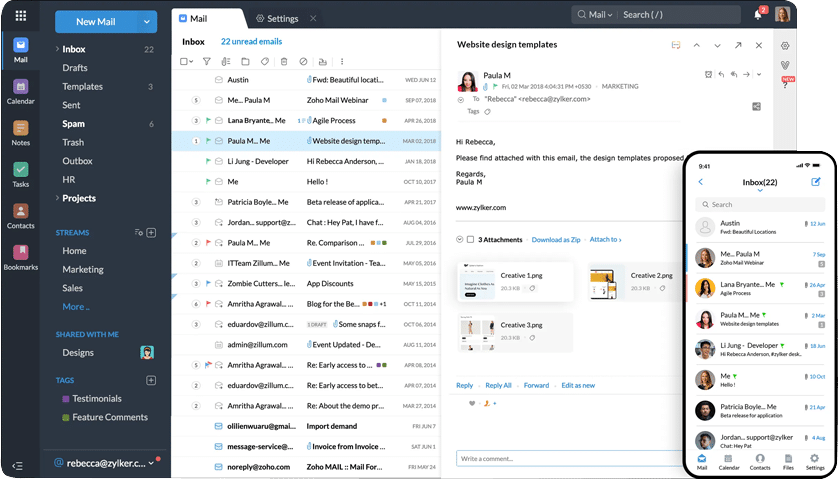 Powerful Team collaboration is important across every company. When people communicate and collaborate as a team, the whole organisation productivity boost. Zoho Mail empowers the internal team and organisation employees to save time by automating most of their email management workflows.
Employees achieve the real when the creative minds are free from giving constant replies, checking emails every minute or managing something which is not worthy of their time. 
Control Panel

– Do all settings, configurations, and optimisations in Zoho'S powerful control panel.

Privacy Settings

– In Zoho Mail, you can add users and set their privacy and security settings.

Manage Preferences

– You can manage various preferences and even set up policies to moderate business email content.

Retention & Backup

– Retain emails for a specified period. It will help to maintain company standards and help retrieve information at the time of counter legal attacks.

e-Discovery Tool

– Get the retained emails quickly with this powerful Zoho Mail tool.

Streams Collaboration

– It is a social media addon tool in Zoho Mail. You can tag your team, replace the email threads with comments, manage tasks by sharing files and do so much more. 

Real-Time

– get benefits of real-time communication and updates as it is a cloud-based email management platform.
Try Zoho Mail – the advanced and powerful email management hosting services platform. For its implementation, we have an experienced team of Zoho consultants serving in the UK, Ireland, USA & India. They can help you set up Zoho Mail for your company. Connect here.
Watch Zoho Mail Overview –
Adapting a smart email management tool like Zoho Mail can outgrow your overall organisation efficiency. How? Because it will limit the time of checking emails constantly and enhance an individual's productivity. 
So if you are planning to implement an email management software. Our Zoho Consultants will be happy to assist you. Communicate here.