Introduction
In a competitive market, the only way for your company to thrive is to operate it successfully and efficiently. Ad hoc procedures that come and go cannot be used since they will impede your everyday business operations. It is critical to use automated solutions to optimize everyday operations smoothly.   
Global corporations have seen a digital renaissance in recent years. As a result, they are seeking a low-cost ERP system to help them simplify numerous company operations.   
With the greatest ERP systems, businesses can automate several activities from a single management interface. ERP has the capability of digitizing supply chains, accounting, customer connections, sales, and marketing. At a minimal cost, they may also handle procurements, projects, risks, and compliance.   
We have included some of India's top ERP software, along with their prices, in this blog. Choose the ERP that best meets your requirements.   
Fortunately, this list allows consumers to choose between on-premise and cloud-based ERP tools based on their budget and needs. Companies can establish and follow a strict budget to reduce resource constraints and choose an appropriate ERP system for their organisation. They may also select the best proprietary or open-source ERP systems. The ERP software price ranges between 60,000 and 20 lakhs, depending on features, number of users, functions, and other factors.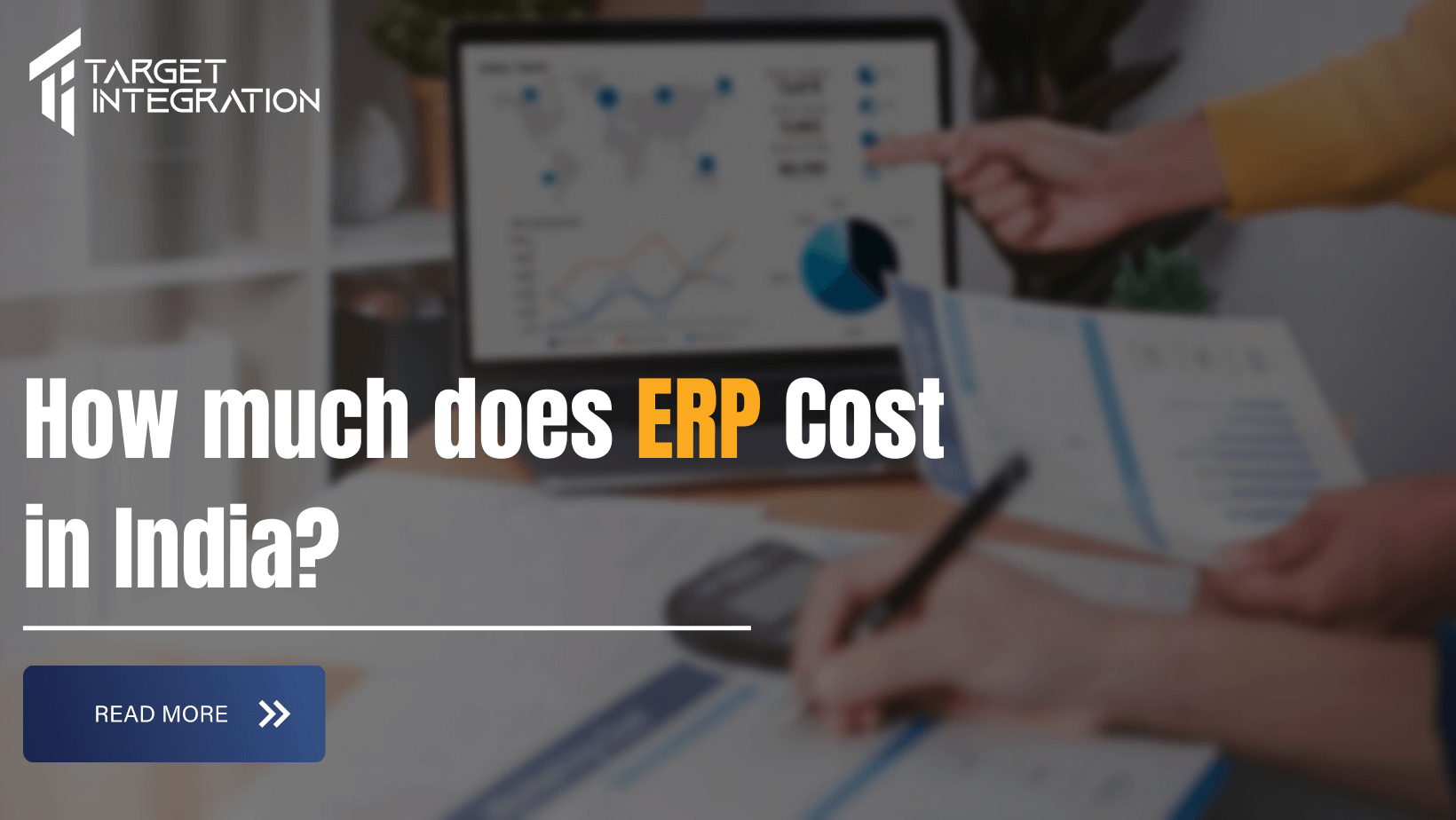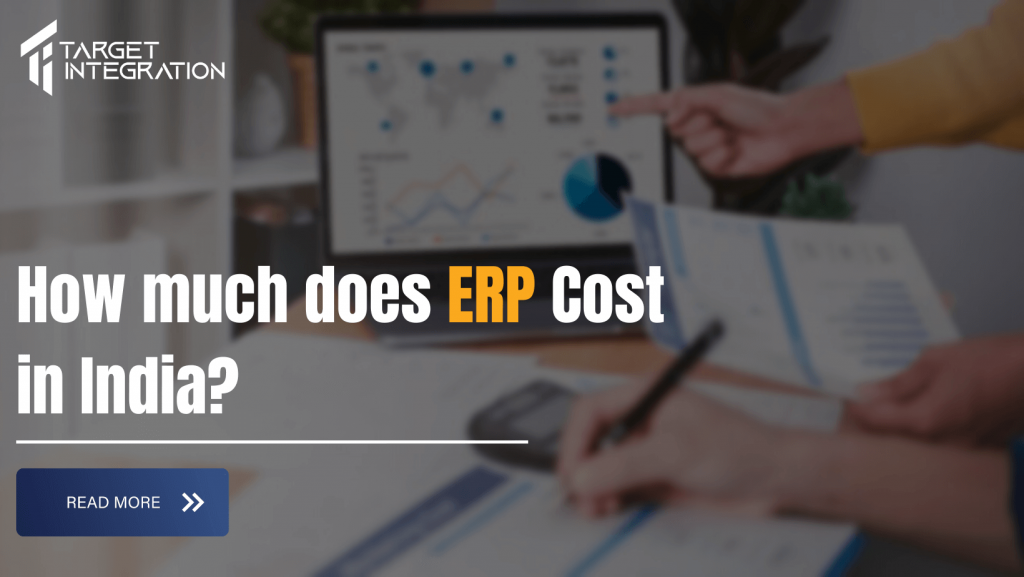 What is the ERP Software Price?  
ERP, or Enterprise Resource Planning, is a sophisticated and necessary corporate procedure. It is a software solution that automates company procedures without sacrificing accuracy or quality. Investing in an ERP solution helps both small and large businesses.   
Some of the top ERP systems are generally delivered as modules that include automated components that manage certain company functions. This feature allows you to select an acceptable solution with one or more features. Inventory, finance, payroll management, sales, marketing, HR system, operations, and so on are examples.   
You may choose an entry-level ERP with limited capabilities, modules and integration if you are a small company. But a full, integrated ERP system and a dependable software package if you are a large enterprise and looking for a robust solution. Large corporations can pick from a variety of worldwide brand ERP software prices from 25 lakhs to 1 crore.   
What is the cost of ERP Implementation in India?  
A perfect ERP solution must be within a company's budget. Along with being cost-effective, the program should also meet all of the unique needs of the organization. Do some study and only spend once you've determined the actual ERP software pricing in India. Always keep in mind that this is a one-time, long-term managerial choice.   
When it comes to customizing ERP solutions for your organization, installation expenses are critical. Remember that a construction firm, a real estate company, and a tourism agency will all have unique requirements. As a result, the ERP setup cost might range from INR 20 lakh to INR 40 lakh.   
Large corporate providers and well-known SAP systems are also available on the market, where ERP professionals configure, activate, and manage a complete solution. A high-end market product like this will cost anything from INR 50 lakhs to INR 1 crore.   
The costs of implementation are determined by numerous factors, which are listed below:   
Selecting licensing prices and establishing a system for X amount of users  

 

Installing several training courses to boost employee acceptability  

 

Choosing a diverse selection of features that meet the demands of the firm  

 

Customizing the solution with modules for sales, HR, marketing, CRM systems, and so forth.  

 

Mobility features ensure anytime, everywhere access (Smartphone apps)  

 

addressing old compatibility concerns and optimizing data transfers  

 
Note: Keep the following in consideration while deploying a complicated system such as SAP i.e., the implementation period lies between 6 to 9 months, occurring in stages. There are different packages by SAP depending on the size of your company (SAP Business One for SMEs, SAP ByDesign for medium-sized businesses, etc.). For more details click here      
Find out a suitable SAP solution for your business from our consultants
Criteria for cost-effective ERP  
Some suppliers provide fixed pricing for their proprietary ERP systems, but these systems also include a certain number of features and modules. A limited number of licenses can also be purchased at a predetermined fee from suppliers. Beyond market suppliers, the ERP software price in India is fully dynamic and unpredictable.    
Cost fluctuation is caused mostly by linked factors. This implies that, in addition to the cost of deployment, you must consider the total number of users for the ERP solution. You must precisely determine the infrastructure requirements in terms of hardware and software.   
There are various more generic and business-specific considerations to consider. Add-ons, various types of databases, backup choices, reporting tools, on-site or distant connections, and so on are examples. The good news is that some sellers are upfront about their rates and do not have hidden fees.   
Odoo, for example, is a web-based, customizable solution for procurements, human resources, finance, supply chain operations, and even more. You may also buy industry-specific software for USD 1000 to USD 1500 annually.   
Ideas for your low-cost ERP Solution  
Here are some low-cost solutions to consider:   
Choose a solution that has a one-time purchase cost.  

 

It should also not have any ongoing subscription fees.  

 

Do not request excessive customization choices in ERP software.  

 

Reduce the overall number of users and their access choices.  

 

Instead of paying for enhanced licensing costs, go for low-cost add-ons.  

 

Calculate all hardware and software requirements precisely.  

 

Pre-arrange annual maintenance and support charges.  

 

Calculate the 18% GST and additional state-level taxes as soon as possible.  

 

Appoint a project manager or team leader to communicate with vendor expertise.  

 
Customization for your ERP software price 
Deploying an ERP solution is sometimes fraught with peril. A viable deployment strategy must be prepared, planned, and executed. Begin by creating a budget and keeping to deadlines to reduce implementation costs. Also, make certain that the greater expenses of ERP modification are minimized.   
Due to business-specific demands, ERP software prices in India skyrocketed. For example, the fashion industry has nothing in common with real estate since a generic, off-the-shelf solution may lack all of the required qualities. For most businesses, having a bespoke solution that can meet all of their needs is perfect.   
The process of ERP customization is neither easy nor straightforward. Consider a manufacturing corporation with five plants or locations. For a manufacturing company, full-fledged ERP software with all business-related core functions and additional customization options will be prohibitively expensive.   
These high-priced systems also include CRM and customized tender management, as well as the customization of all business papers for the organization. It also cleared the way for the simplification of business logic and operations, paving the way for result-oriented productivity.   
On-premise solutions are the only ones that can be customized. As a result, you have the option of selecting an integrated cloud solution and paying the price for complete services per user on a monthly or yearly basis. This system also does not include any monthly rentals on vendor-supplied hardware and software.   
Customization costs may be reduced by using a vanilla ERP, which is an out-of-the-box deployment strategy that does not need fundamental design changes.   
Consumer Electronics 
Traders and connected service providers might pay a standard fee of around INR 2,50,000 to INR 1200,000. The purchaser obtains a completely tailored, integrated solution that includes service management systems as well as all ERP modules.    
Construction Business 
Customized ERP benefits real estate builders, developers, and agents. The ERP Software price ranges from INR 8,00,000 to INR 20,00,000. However, in this case, the buyer simply receives a single platform to manage all of the complicated business demands. The user, on the other hand, has access to the project from several devices and locations, as well as a useful sales management system. They can also easily manage staff, brokers, and client networks.   
Why does Customer Support matter?  
Because the system is so sophisticated, there are no low-cost ERP options. Estimated costs must include licenses, subscriptions, implementation, data input, and export. Furthermore, the expenditure on hardware, software, maintenance, and training cannot be avoided.   
The ERP software price in India is determined by numerous inevitable charges, which are listed below:   
1. Personnel Cost  
Legacy systems and data conversion need knowledge; thus, the IT staff must be supplemented by spending on new hires. Specialized consultants charge by the hour as well, and their skills are required for sophisticated implementations.   
2. Training Expenses  
Training is a hidden and difficult-to-estimate expense for any firm because the new program contains various file formats, papers, purchase orders, etc. From the perspective of a manager, it also features unique report generators and analytics capabilities, so you will have to pay training costs to increase staff skill levels.   
3. Testing Solution  
Scripts, modules, and other functional components must be tested, as well as legacy and device compatibility. Furthermore, you must monitor the process operations in real time to avoid a company failure. Such testing necessitates additional resources and cash, and automated testing applications are even more expensive because they speed up processes.   
4. Customization 
Customization and integration are critical for new ERP solutions because they provide business model compatibility. The ERP features and functionalities will meet the needs of the company's specialized procedures, which range from payments to user interfaces.   
5. Employee Co-operation  
When introducing new solutions, you must also consider employee satisfaction. The ERP software price in India must include adaption. Your company's workers must be trained, cajoled, and offered greater wages; otherwise, there is a risk of resistance, non-cooperation, or system delays.   
6. Re-engineering  
Many ERP systems do not take into account unique business circumstances. The company's requirements and business operations may have to change dramatically. Problems may develop if the ERP solution is not scalable or adaptable. As a result, keep in mind that reengineering is far less expensive than customizing.   
7. Ongoing Maintenance 
With proper help, it is simpler to handle all of the above-mentioned charges. Always go with a company that provides transparent maintenance. Whether it's a cloud-based ERP service or on-premise software, your provider should be transparent about the cost of support. When setting a budget for the ERP solution, don't forget to include regular support expenses.   
Cost-Benefit analysis  
You must conduct a cost-benefit analysis like a discriminating customer. When purchasing a tech-based solution, keep in mind the return on investment, especially if you are spending a significant amount of money from your capital. As a result, consider elements such as efficiency, productivity, and flexibility when determining the ERP software price in India.   
Lower prices are important, but they are not the only factor to consider. You will have to spend extra if you want a cloud-based ERP system. Robust metrics, mobile-friendly access, and social media integration are all available to you.   
The advantages must outweigh the associated expenses. A better return on investment (ROI) must be sustainable over time. The intangible advantages should be considered in your full study, but it should still be quantitative and focused on financial performance and net profit margins.   
Business-Friendly ERP 
Remember that ERP solutions satisfy around 90% of enterprises. Their capital outlay is measured in thousands of rupees. They also have ongoing expenses such as subscription fees and maintenance fees. Despite this, they believe the ERP software pricing in India is reasonable.   
Even pricey ERP software is justified by organizations since it provides the following number of long-term benefits:   
It's user-friendly software that's fully linked with corporate processes. 

 

It offers data-intensive features and functions that assure accuracy and dependability.  

 

The ERP system streamlines and automates critical company activities.  

 

Because it provides all-encompassing services, the system minimizes stress for senior management.  

 

Secure and quick team communication and information access  

 

Employees are happy and participate in high-value activities.  

 

Productivity rises at every level, from executives to senior management.  

 

Senior executives make informed judgments based on data and analytics.  

 

The company's mission and social principles may be easily achieved.  

 
Ways to Cut down the ERP Costs  
Follow these procedures to prevent encountering such unwelcome obstacles:   
Choose a seller who has no hidden fees and straightforward pricing.  

 

Prepare a precise cost estimate and stick to a well-defined project strategy.  

 

Unexpected expenditures resulting from changes in needs should not be overlooked.  

 

Conduct market research and select the most appropriate ERP software.  

 

Select merchants who are willing to discuss pricing.  

 
Pricing Plan  
Flexible plans are included in the finest ERP software price in India. To please clients, the providers also ensure pricing flexibility.   
The following are some of the usual pricing policies:   
Upgrades and support services are included with monthly subscriptions.  

 

Packages with unlimited users are available at no additional cost.  

 

Low-risk capital expenditures and billing after deployment  

 

After the second year, there are no upfront expenses and payment privileges.  

 

Credit cards, bank transfers, cash, checks, and other payment gateway services are available.  

 
Conclusion  
To summarize, the ERP software price in India is determined by a variety of factors. Open-source, proprietary, on-premise, and cloud solutions all have different prices. The ERP system is extremely beneficial to your organization, and it is a cost-effective solution to establish a system that meets your needs. At the start, do a thorough cost-benefit analysis.   
Because ERP solutions are so varied, there is no one-size-fits-all price. There are internet services for micro-businesses that cost between INR 10,000 and INR 60,000 per year. You can also go with high-quality, integrated software. SMEs will pay between INR 5 and 6 lakhs, while corporations will pay anywhere between INR 25 lakhs and INR 1 crore.   
Finding the correct ERP software for your start-up or small to medium-sized business can be difficult. However, finding an ERP system that will expand your company is critical. The finest ERP software for start-ups and small businesses is tailored to your particular industrial needs and scales as your company expands.   
Target Integration has been enabling small companies by assisting them in scaling, expanding, and thriving through technology advancements. Our specialists would gladly assist you with your ERP needs. We examine your company first and then propose business software that is right for you.