Almost all businesses today serve their customers over the telephone. Hundreds of customers write to you using multiple channels, and your agents need to keep track of them all. So, once an executive has heard what the customer needs, he should eventually log a ticket to acknowledge the problem which can be done in a few easy steps.
Zoho Desk provides an intuitive "Add Ticket" interface that allows you to quickly log a ticket. Here are the steps to add a ticket:
From the Tickets module, hit the + sign located in the top toolbar.

Specify the appropriate Department, where the ticket should belong to.

Enter the requester's Contact Name. You can select from the suggested contacts if the requestor is an existing user.

Enter the requester's Account Name.

Enter the requester's Email Address and Phone. The email and phone fields are auto-filled when you've chosen.

Enter the Subject of your ticket besides, other ticket properties that add context to the customer's request.

Click

Submit

.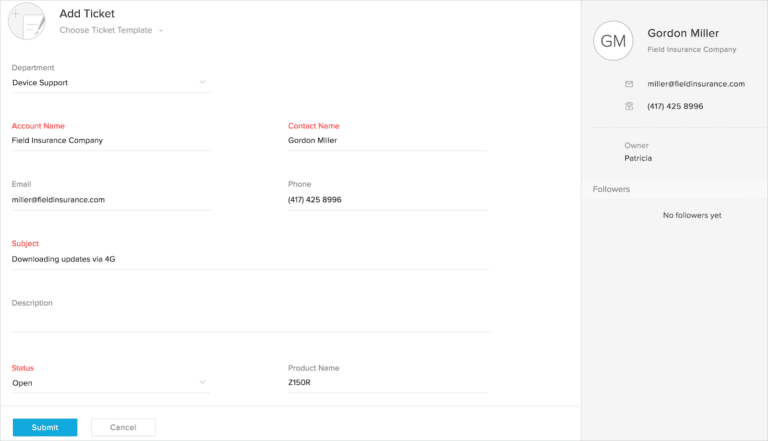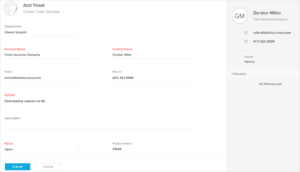 The customer will receive an email acknowledgment with their ticket ID and other related information. 
IMPORTANT POINTS:
The system will add a new Contact when a ticket is raised for/by a requester who doesn't exist yet. The same applies to Accounts and Products as well. 

You can add attachments while you create a ticket. Though you could upload multiple files, make sure that each of that file is within the size of 20 MB.

When an agent creates a new ticket, it defaults to the agent/submitter as its owner.
Conclusion
When it comes to customer service, things are always easier said than done. Zoho Desk helps uncomplicate this process, every step of the way—for customers, agents, and managers by logging tickets.
With the ability to create tickets as per requirement, replicating your organization in Zoho Desk is easier than ever. You can organize your customer service efforts within Zoho Desk just the way you need it. Target Integration one of the premium partners of Zoho. We provide integration, support, migration, and training for all Zoho Products.