"e-Learning doesn't just"happen"! 
It requires careful planning & implementation." 
                    – Anonymous

Zoho Classes App | Online Education App | Teach & Study from home.
The culture of e-schools has begun vastly as the COVID-19 pandemic happened to the world. Zoho recently announced its new EduTech App – Zoho Classes App. This App is built in response to coronavirus pandemic spread across the world.  A powerful but fastest & easy-to-use education suite for students and teachers. Take your school online today!
Zoho Classes App is a big thanks to our respected & hard-working teachers who are working remotely to teach their students in coronavirus crisis. So, how Zoho Classes, Zoho LMS & other Zoho Academia Apps for online classes and web conferencing will help teachers to teach from home and students to study from home. 
Yes, in this blog we are introducing you with the Zoho Classes App.
Zoho Education Suite | Gather students & start teaching online.
It's an Online School management software that will help teachers and students to collaborate online and attend their virtual classrooms from the comfort of their home. While everything will be centrally monitored by School administration. Want to know how? Connect here with our Zoho Consultants for the Zoho Classes demo.

Our CRM/ ERP consultants will be happy to know your requirements on Online School management software. We will be glad to discuss all your needs being a Zoho Partner. Want to have a general inquiry on School CRM or LMS? Discuss your needs here.
Zoho Classes  App –  It is a SAAS product and an education suite offering to support BharatPadheOnline Programme initiative to help the Indian government. It is one single platform to create your class with the highest global security standards that protect your personal data like email &, mobile number. There is an app for teachers & for students where the school will centrally monitor all ongoing activities. Highly secure & private as the invite to join any only classes is through a direct link generated by the school.

So, here we are summarising what you can expect from this Indian Education App.
Video content delivery & video-lessons.

Upload unlimited courses

Broadcast live classes

Share & collect assignments under set deadlines as an image, document, or PDF.

Collect responses on one interface.

Remote attendance.

Online fee collection via credit card, debit card, wallet, UPI, or bank accounts.

Classroom communication apps

Assignment management tools

Project-creation applications

No personal details shared like student email id & phone number.

Portal to sell school merchandise like textbooks, school uniforms, or any school supplies.

Chat platform for students & teachers to resolve queries and clear doubts.

Photo & Video gallery option.

Free up to the first 100 students. (Private schools) 
Contact Zoho Premium Partner – Target Integration for detailed pricing plans & consultancy.
Learn more Zoho classes feature here. 
Zoho Classes App | Customer Testimonial by a CBSE school in Chennai.
Vidya Mandir Estancia, a CBSE school in Chennai, successfully moved their school activities online after the nation-wide lockdown was announced, using Zoho Classes.
"We onboarded and trained around 70 teachers and 850 students in just a week, and were able to commence the new academic year from April 2020, without any hiccups. We are happy to have not missed out on precious teaching time," Maheshwari Natarajan, Founder Principal, Vidya Mandir Estancia said in a statement.
"We intend to use it even after the lockdown is lifted for interventional teaching, special classes, extra material, and continuation of classes when a teacher/student is absent."
Our Zoho Consultants will be happy to assist you with our consultancy services & Zoho Classes demo.
More online collaboration tools | Zoho LMS, Showtime & Meetings.
1. Zoho ShowTime to deliver real-time online classes with Q & A sessions. Share virtual class links with all your students to join. Record sessions and have details in the gallery. Add a co-trainer. Ask for feedback and survey what needs to be improved and added. Whiteboard and many creative options to choose from. Export attendees list.
Let's setup ShowTime for you to meet your educational goals together.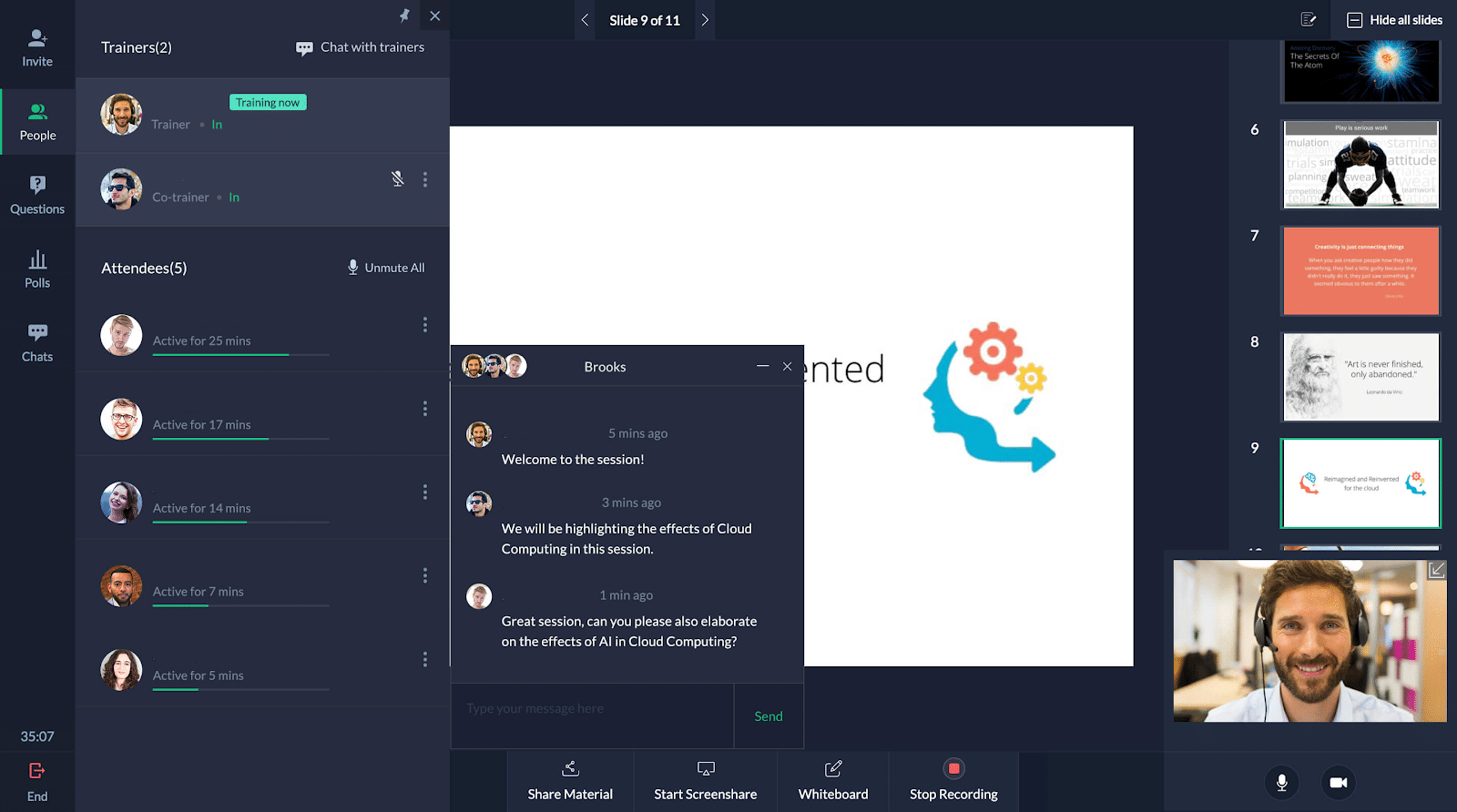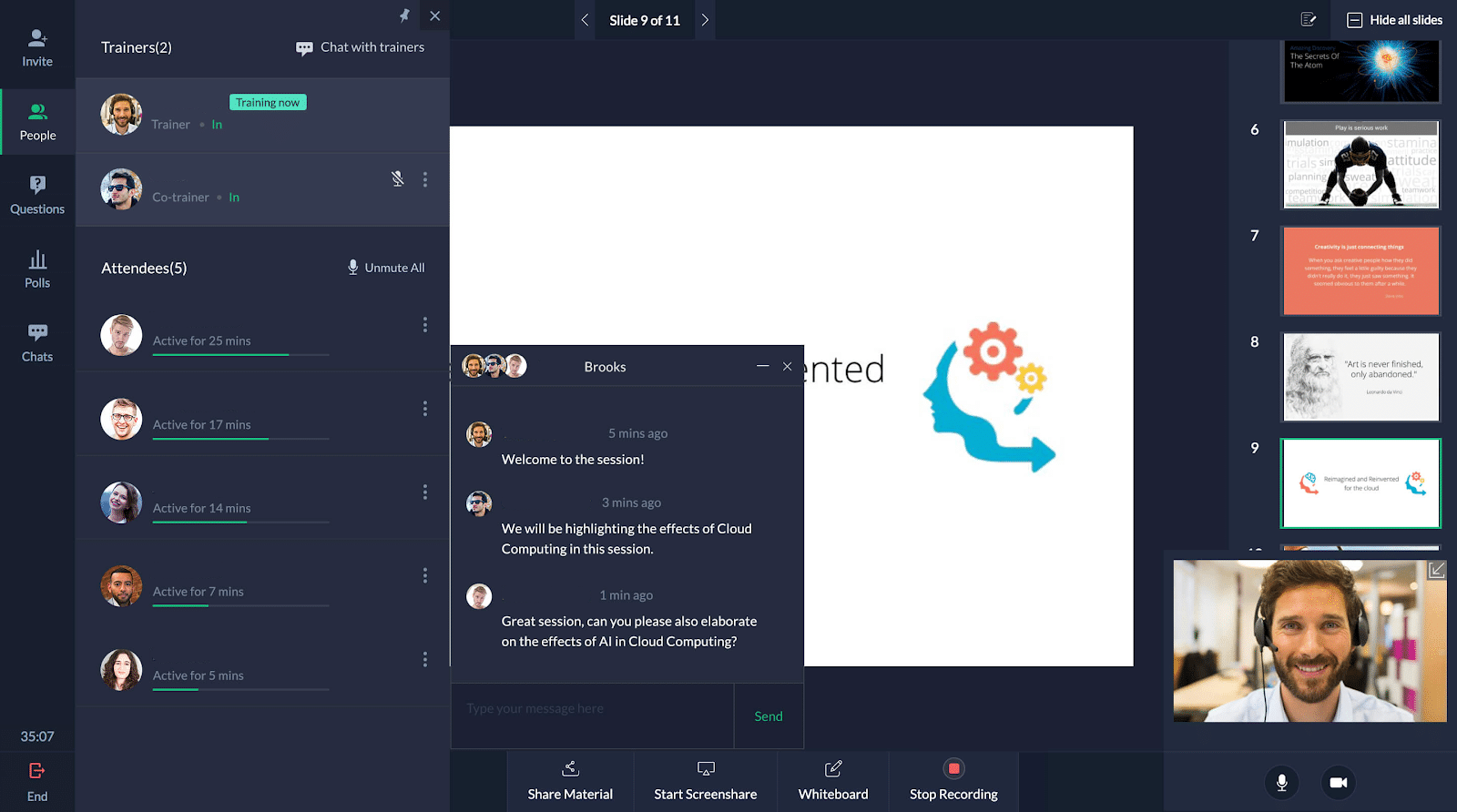 2. Zoho People & LMS – Daily attendance and leave management system. Create & share subject course modules, videos, PPT, or PDF with your students. Add notes, assign tasks & worksheets through the Learning Management system. Display notifications and so much more.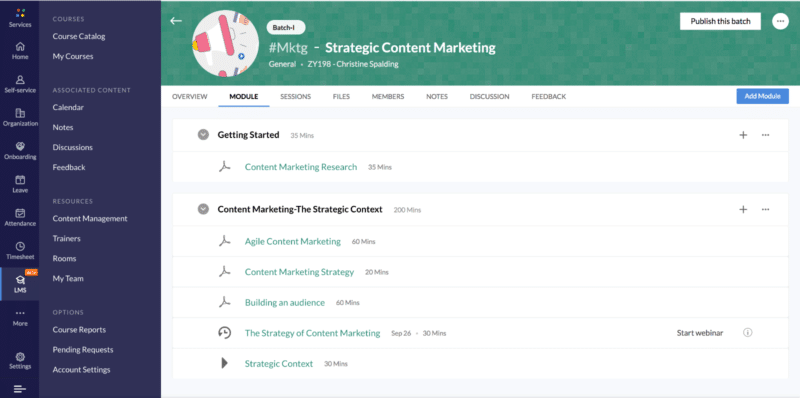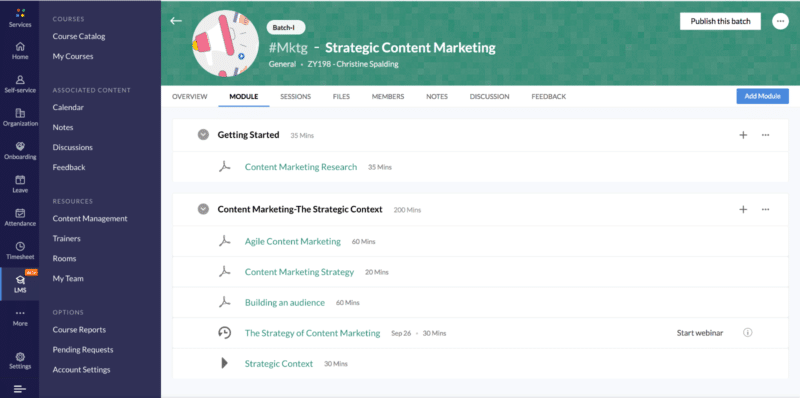 3. Zoho meetings – Connect with your students online with a video call. Schedule webinars and meetings.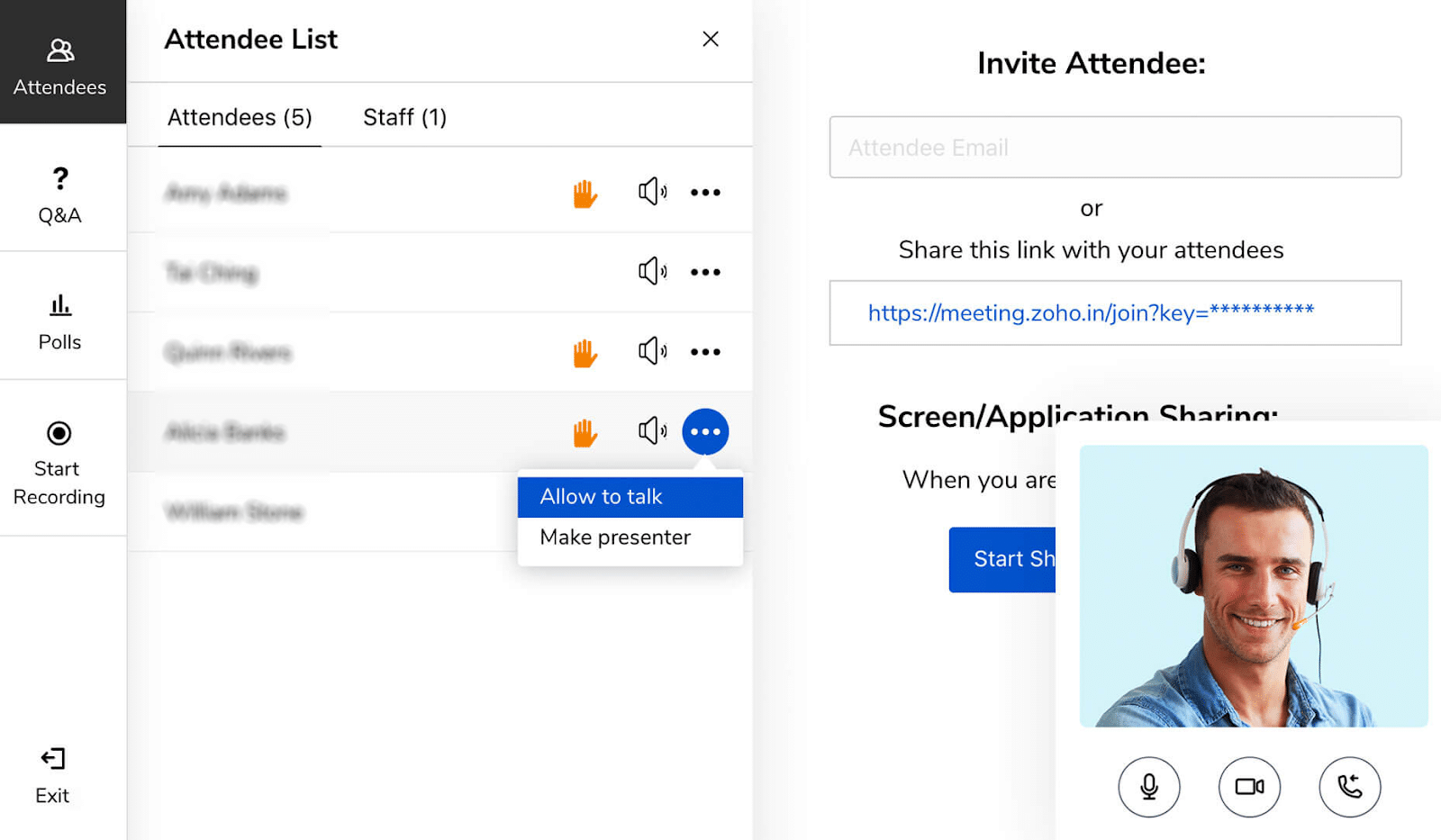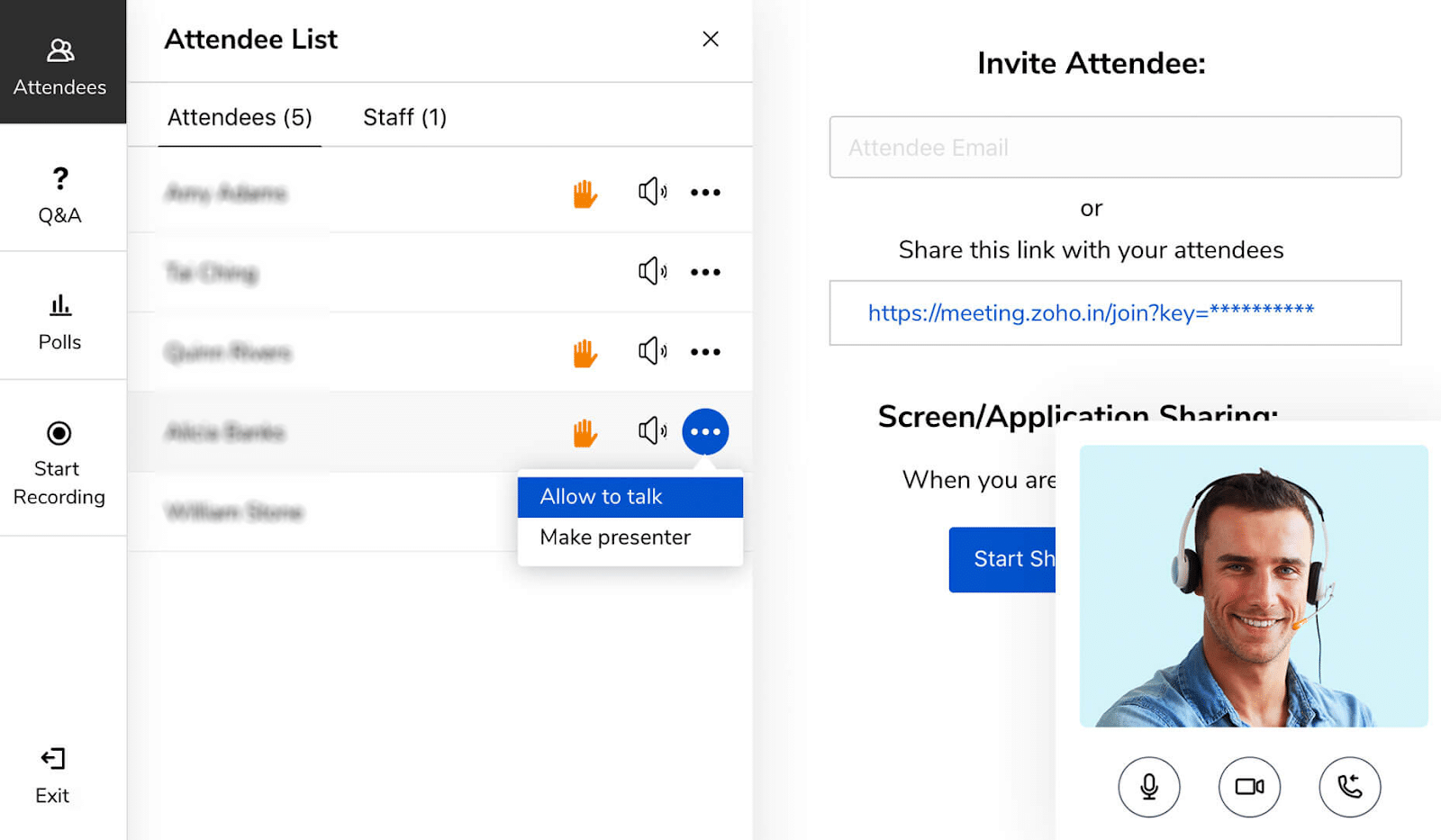 Need a quote on the School management system? Contact here.

Future students will demand online learning with virtual classroom & LMS. We offer no less than required services for you to a quick start and be futuristic ready. Get all the benefits of e-learning software from Zoho partners.

Practice social distancing. Stay home! Stay Safe!

Want to know about more Zoho Apps for remote working? Read our blog.