Zapier allows end users to integrate the web applications they use. It allows you to easily use APIs for pretty much any purpose that you can think of. It is an easy automation for busy people. It allows you to choose the cause and effect within a single process called a "zap".

Zaps are Workflows that connect your apps and moves info between your web apps automatically, so they can work together. It helps to create a delayed trigger or stay in the know about new supported apps, triggers and actions.

How does Zapier works?

Zapier works on a "trigger-action" structure. It is the interaction between triggers and actions. If a zap is a cause and effect model, the cause would be your trigger, and the effect is the action.

It starts with a Trigger—an event in one of your apps that kicks off your workflow. It automates tasks in the background while you focus on more important work.

For example, if you want to save your attachments to your Dropbox. In this instance, the trigger would be receiving the email with the attachments and the action would be saving the documents to your Dropbox.

Zapier and Zoho Desk integration

Zapier allows you to instantly connect Zoho Desk with 1,000+ apps to automate your work and find productivity super powers. The automations make working much easier and remove the complexity of using various applications simultaneously. It's easy to connect Zapier + Zoho Desk and requires absolutely zero experience in coding.

Zapier can automatically trigger workflows in other apps whenever new contacts, tickets, messages, comments, accounts, or agents are created in Zoho Desk. Or you can send an email reply, create a ticket, add a comment, or create a contact in Zoho Desk whenever trigger events happen in the other apps you use most. It helps you to automate your customer service.
How to Automate Zoho Desk with Zapier

Sign up for a Zoho Desk account, and make sure you have a Zapier account.
Try some pre-made Zoho Desk integrations, and learn more about how Zoho Desk works with Zapier.
Or log in and build a custom workflow with Zoho Desk and Zapier.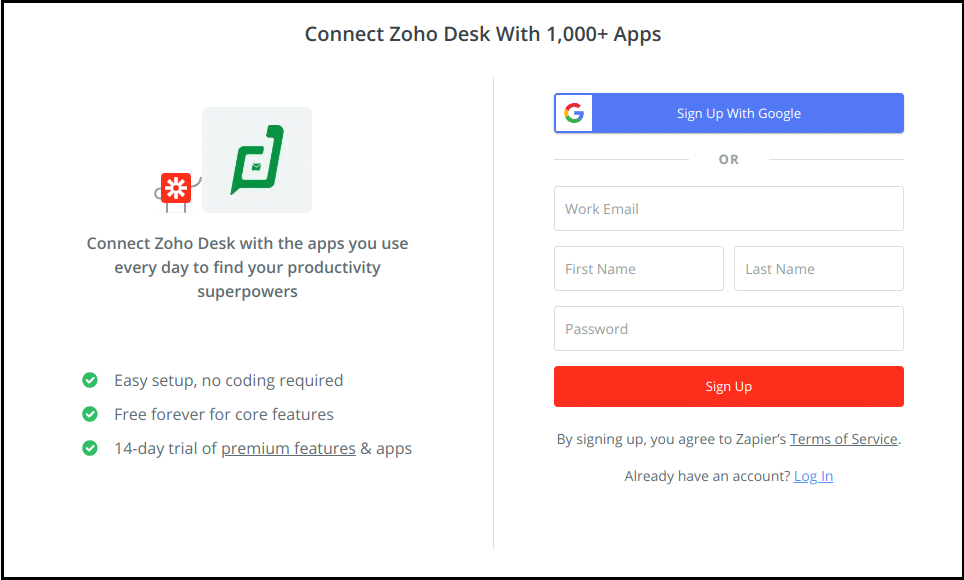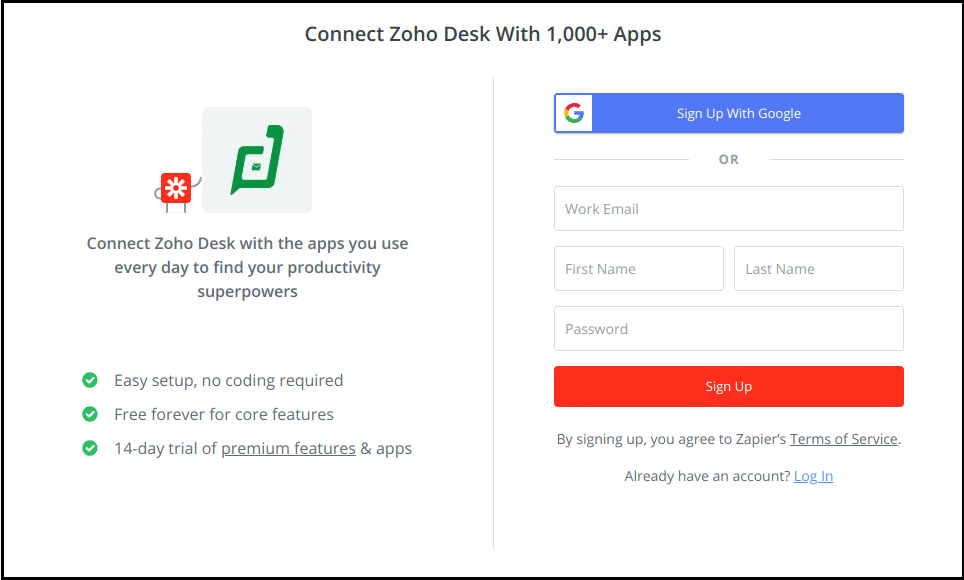 Below are a few of the Zaps that helps you to ease out and automate your work:

1.Create Trello cards for new Zoho Desk tickets
It helps you to directly convert customer requests into projects and track their progress. You can convert a Zoho Desk ticket into a project card in Trello and follow up easily.

2. Send a direct message on Slack about new Zoho Desk tickets
The integration ensures that whenever a new ticket is added in Zoho Desk, all users in Slack are notified.

3. Create Zoho Desk tickets for new Google Forms responses
This integration allows Google Forms survey responses to automatically be logged as support tickets in Zoho Desk.

4. Add new Zoho Desk contacts as MailChimp subscribers
In this integration, any customer newly added in Zoho Desk will automatically be added to a mailing list of your choice in MailChimp.

5. Add new Intercom conversations as Zoho Desk tickets
It is now equally easy to convert Intercom chat conversations into tickets. This integration truly takes multi-channel customer support to the next level.