Zoho released its email marketing solution, Zoho Campaigns, a decade ago. And its first entry into the field of marketing software. They've been investing in Martech for the past ten years and have worked with hundreds of brilliant marketers and marketing teams across the world through their distinct solutions. As a consequence, they've learned about the demands and problems of operating marketing campaigns.  
Zoho Marketing Plus is the solution to these difficulties, combining all marketing technologies into a single solution to assist marketing teams in growing their brand. Zoho Marketing Plus provides the breadth and depth of marketing capability that businesses of all sizes require to grow. 
Brand Studio: A campaign for seamless execution from start to finish
Marketing tools are rarely intended to give a full, high-level perspective of campaign performance or entire marketing operations. With Zoho Marketing Plus, they aim to alter this.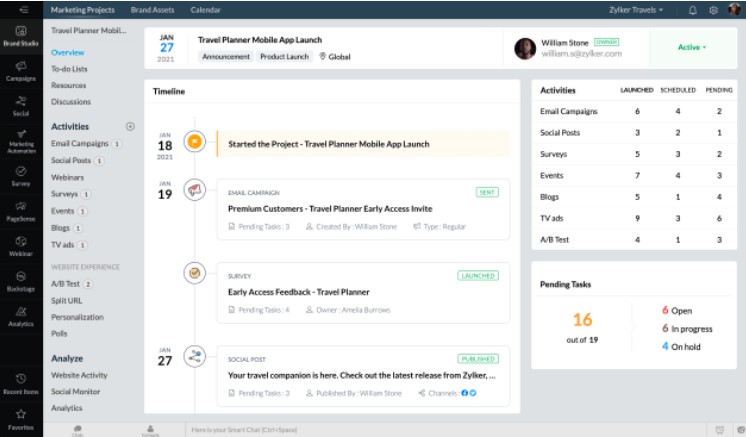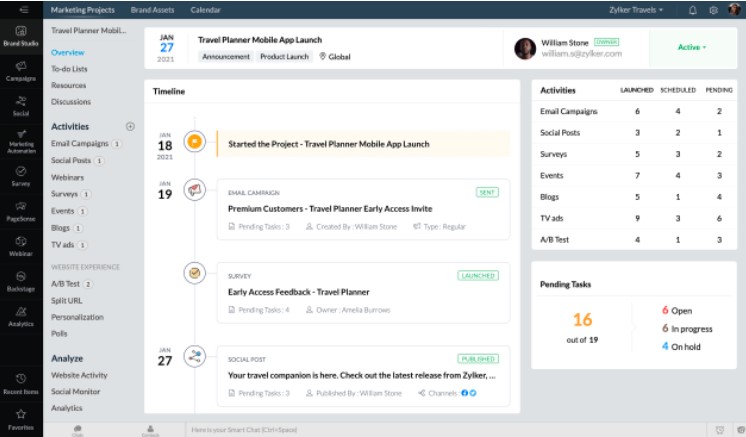 Through the integration of numerous marketing and business operations, Zoho Marketing Plus provides great visibility and effective collaboration across all marketing campaigns via its robust campaign workspace, Brand Studio. Brand Studio links all the dots of a marketing campaign; it gathers all the activities, conversations, channels, brand assets, and stakeholders into one location where teams can truly engage in campaigns collectively. 
No more dropped context or missing client engagement chances
Zoho Marketing Plus's unified marketing platform brings together email marketing, social media, customer surveys, marketing automation, webinars, website performance tracking, events, and advanced analytics on a single screen. Marketers may easily build and measure campaigns across several platforms. They don't have to worry about switching between channels or giving context. And they can assure better brand execution and a consistent brand experience for their customers across touchpoints. 
Get a full picture of your marketing and entire consumer experience
Zoho Marketing Plus gives you deeper visibility into all of your previous and ongoing marketing initiatives. One advantage that our early clients have noticed with Marketing Plus is increased exposure. The platform gives significant insights into two critical areas of your marketing process. They are the execution and progress of your marketing initiatives, and overall marketing and company success.  
Teams and executives can use Brand Studio's analytics to see how each campaign is going and performing. You can watch the real-time status of every action, and see who has been allocated to each assignment. 


The platform also includes robust dashboards that allow you to assess the effectiveness and development of a given marketing channel and an overall picture of your marketing activities.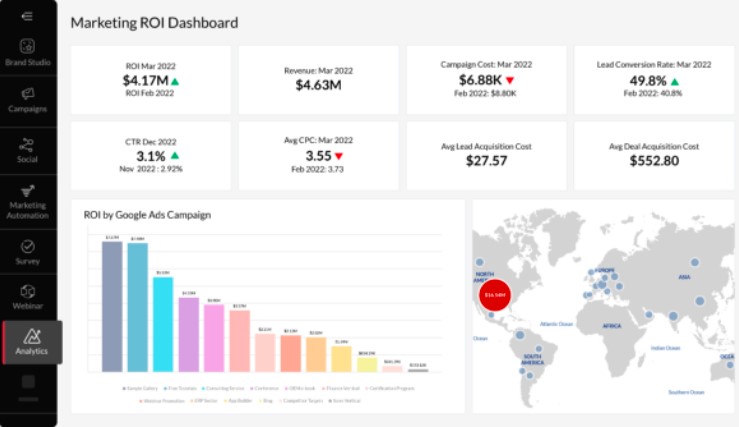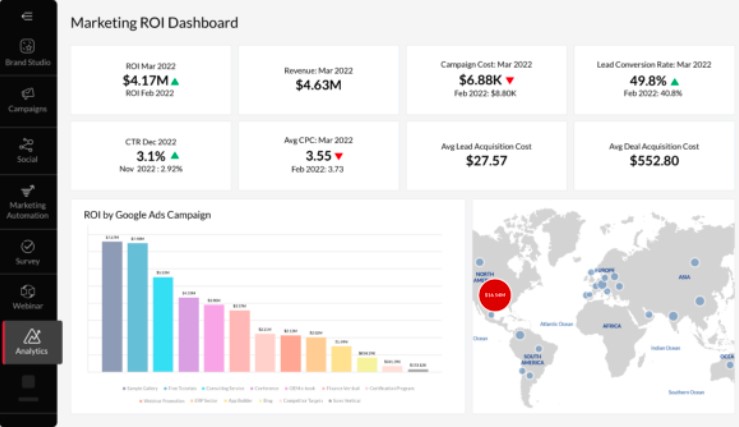 Teams can easily request whatever sort of report or dashboard they desire with Marketing Plus's AI-driven analytics. The platform may also incorporate important data from other company areas, such as sales, service, or even customer success, through its interaction with multiple third-party applications. As a result, marketing teams can understand the whole context of the business and rely on a single source of marketing truth. 
Collaboration among all stakeholders is seamless
When it comes to implementation, effective marketing necessitates coordination across many team members and stakeholders. However, cooperation typically occurs outside of marketing tools and is not directly connected with marketing activities—until now. Zoho Marketing Plus enables teams to collaborate on campaign material, co-create brand assets, and exchange critical facts at the correct moment. And more–all from within the platform. In the next 18 months, Zoho aims to improve this even further by using many additional features. For eg their in-house communication platform, Zoho Cliq.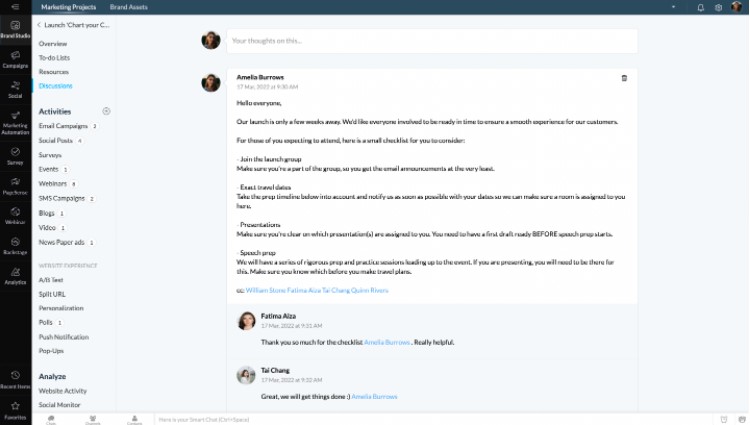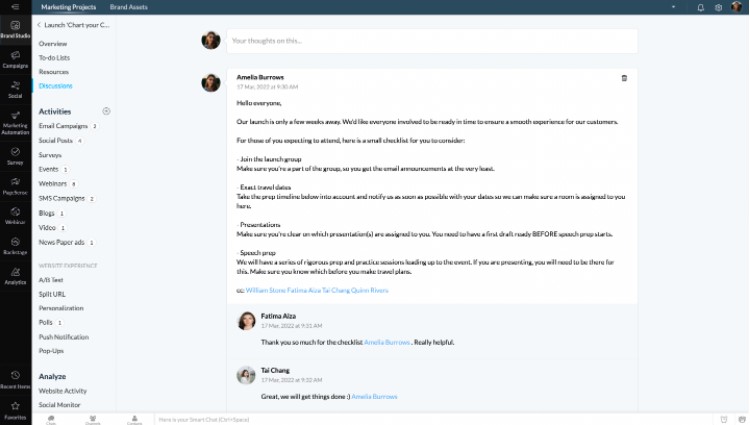 Conclusion 
Target Integration offers services and promotes Zoho products for any sort of business. With digitalization comes the need for data transfer, training, and consultancy on occasion. You can also link third-party apps into software packages like Zoho CRM. 
Target Integration experts have years of expertise in digital transformation. We can assist you with Zoho CRM setup and connections. Also, we have offices in Ireland, the United Kingdom, the United States, and India. We assist 24*7 to our client. Please contact our expert for a demo or advice on your company's digital transformation.