CRM software is used in almost every business, including healthcare. A healthcare CRM Software may appear unusual. After all, don't conventional CRM features appear to be more focused on marketing and sales? Yes, but CRMs tailored to the unique issues and procedures of healthcare businesses may provide several advantages.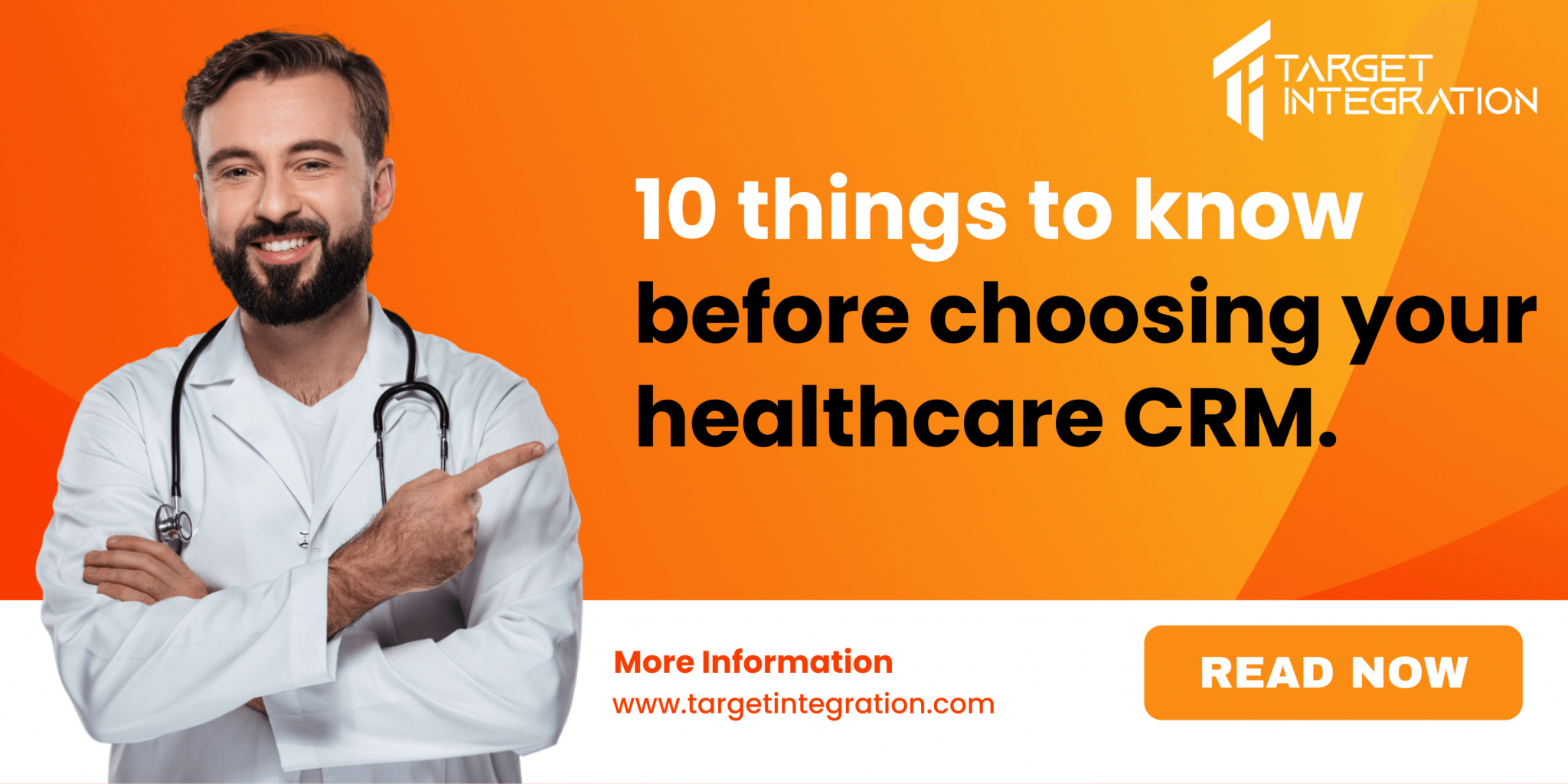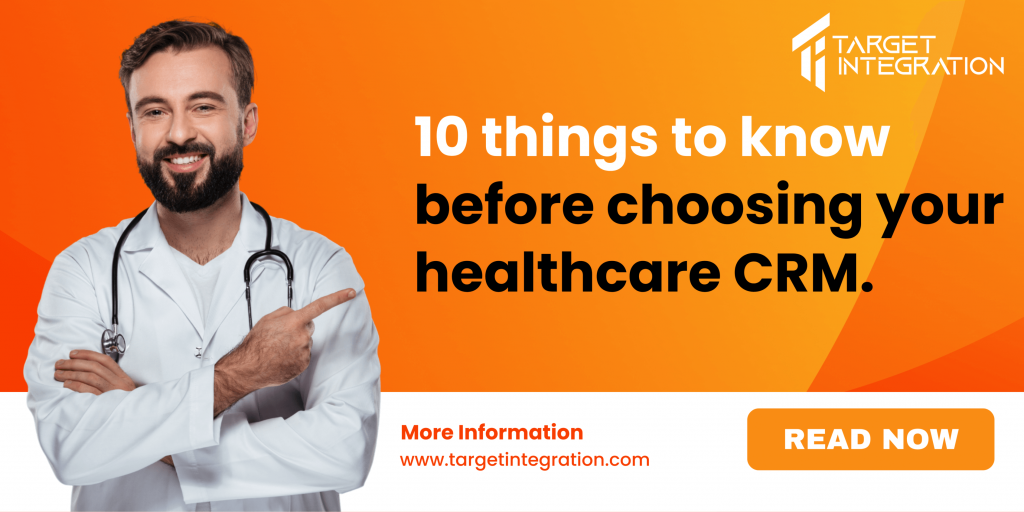 What is Healthcare CRM? 
A healthcare CRM is a specialized Customer Relationship Management in Healthcare system built primarily for medical organizations like hospitals, medical centers, clinics, labs, and other medical facilities. Through an online interface, you may follow best practices, manage patients' medical histories, bills, visits, and plan appointments. You may keep track of patients, doctors, and other medical professionals' contact information as well as referral networks.  
What does the Healthcare CRM do? 
A healthcare CRM may benefit your company in a variety of ways:  
Allows you to concentrate on marketing and sales. 

 

Aids in the recruitment of new patients and the expansion of practices. 

 

Provides client service. 

 

Aids in the creation of online resource centers, the creation of tickets, and the tracking of issues.

 

All communications are managed through a single dashboard. 

 

Manages an individual's internet reputation. 

 

Tracks social media and other review sites' involvement. 

 

Allows you to respond to criticism. 

 
Different types  
Management of medical data 

 

Relationship management with patients 

 

Pipelines for treatment sales 

 

Recruiting new patients 

 

Management of referrals 

 

Patient participation is important. 

 

Scheduling appointments 

 

Management of the payers 

 

Management of the clinic's image  

 
Primary benefits 
Healthcare firms can benefit from the following main features of healthcare CRM: 
1. Improved Patient Satisfaction
Gaining a deeper understanding of your patients' needs and behaviors allows you to build stronger connections. Manage their health condition in a proactive manner and plug any holes in your engagement plan. You may also manage administrative activities so that you can focus on the requirements of your patients, which will help you boost patient satisfaction and retention. 
2. Faster Resolution
Assess each patient's health and determine the source of reoccurring difficulties to provide quicker treatments. 
3. Synced Services
Service representatives may access patient information at any time and reply to customer queries swiftly. Consumer and patient profiles may also be shared, viewed, and contributed to by other departments within your company. 
4. Faster deal closure
Enable dynamic and highly tailored outreach to target demographics across several channels, as well as tracking individual lead progress. You can keep an eye on the hazards of potential outreach accounts from any device and cut down on repetition. 
5. Centralized Information
Consumer and patient data may be accessed via a centralized database. Using a cloud-based CRM, create a 360-degree perspective of patients, consumers, and homes by combining data from many sources. This allows authorized individuals to view patient data from a variety of devices at any time. 
6. Reporting and Analytics
Use customizable reporting to see if your patient engagement techniques are working and focus on more essential metrics. Based on past involvement and medical history, determine who would be most interested in certain classes and activities. 
Key Features
The key distinction between a healthcare CRM and a conventional CRM is the particular functionality required by healthcare providers. 
The healthcare business is primarily focused on two types of CRM software: one that allows companies to keep in touch with their patients, and another that allows general and specialized practices to communicate. 
Each one will have its unique set of specifications and features. However, while looking for a CRM to serve your healthcare needs, these are the most important elements to consider. 
1. Patient Engagement
Running a medical facility necessitates a high level of patient involvement. Maintaining patient connections is just as vital as maintaining customer ties in order to establish a long-term partnership in a corporation. 
Automation is provided by healthcare CRM software to handle the communication effort. You can, for example, send out mass email newsletters with information about your facilities, special offers, and industry news. In these newsletters, you may also include health suggestions, making your patients feel that you're actively assisting them in living a healthy lifestyle. Such procedures aid in the development of patient relationships and urge them to remain loyal. 
2. Customer Service
Customer service reps can quickly make appointments with specialists, answer condition-related queries, and take other educated actions during patient contacts since they have direct access to a patient's personal and medical data. Phone, text messaging, social media, live chat, and email are all options for contacting help. 
3. Consistent Compliance
Compliance is critical in every sector, but it is tough to achieve. Because medical rules are among the most stringent, it's critical that you have the right tools in place to meet them. These regulations may be met with the aid of health care CRM systems. 
Keeping patient data electronically also eliminates the need to handle paper papers. Many CRM systems have cybersecurity features that might help you safeguard patient data. To put it another way, no one could mistakenly obtain access to important information if you misplaced a file. This is especially crucial for the healthcare business, which has the greatest cost of data breaches of any industry. 
4. Sales Marketing
Marketing teams may use CRM systems in healthcare to provide customized promotions. It streamlines feedback collecting, satisfaction evaluation, and identifying patient needs, resulting in enhanced performance and lower churn rates. Medical CRM also aids in the prompt follow-up of leads and the detection of lead nurturing concerns. 
5. Communication tool
Any healthcare organization's top goal is to take care of its patients. The top businesses are continually striving to become more patient-centric, ensuring that no patient is ever forgotten. 
This aim is met by healthcare CRM, which facilitates communication and makes it simpler to be present and deliver 360-degree attention to patients. It may also record patient data, such as tests, diagnoses, and treatments, similar to EHR software, giving clinicians access to each patient's history whenever required. Furthermore, chat tools enable physicians to cooperate, advise one another, and exchange knowledge. 
6. Collaborative task
You may track messages regarding urgent activities, planned events, and training or maintenance sessions using automated processes. Medical CRM allows users to share requests and information across departments, file issues, and obtain assistance. 
After reviewing a team's progress and timetable, managers might divide responsibilities. It allows professionals in many places to interact in a safe and compliant manner. 
7. Document Management
All patient-related papers should be securely stored in a CRM for simple and fast access. Templates can be used to make invoices and certificates. Reduce paperwork and manual record-keeping activities to free up personnel time for patients and high-alert jobs. 
8. Smart Segmentation
You may keep things organized by segmenting incoming appointment requests and other queries. Location, conditions, linked physicians, referral partners, medical history and diagnosis, family records, and other characteristics can all be used to rank requests. Professionals may readily communicate on the same data via email, messages, and chats. 
9. Contact Management
Contact management is at the heart of every CRM system. Healthcare CRM software is a useful tool for growing and retaining a constant patient base. It enables you to categorize and arrange your numerous connections into groups based on factors like demographics, medical requirements, sales funnel position, or whatever combination you find useful. 
This segmentation allows you to more effectively target these patients with marketing and sales materials, increasing the likelihood that they will return to your firm. 
10. Reporting
Reporting is an essential component of any CRM programme. Even in the healthcare business, manually planning, implementing, and reviewing marketing initiatives is difficult, but a healthcare CRM may help you manage and measure ROI. This way, you'll know which efforts produce leads, assist in patient acquisition, and benefit your medical facility the most. 
Data insights can help your hospital improve by cutting patient acquisition expenses. When paired with patient information, you can more easily find the most appropriate individuals to contact and understand the type of service or product they want. With this improved outreach efficiency, you can avoid wasting money on patients who may not want your services right now. 
Needs Analysis
What should you look for in the vendor?
Examine healthcare-specific CRM options rather than generic services while assessing companies. These should include the following: 
A database created exclusively for the healthcare industry.

 

Built-in segmentation allows you to target the relevant people throughout your campaigns.

 

To maintain a consistent patient experience, a contact center is needed.

 

The platform's flexibility and configurability.

 

CRM professionals in the healthcare industry.

 
What should you consider before implementation?
Before making a decision, be sure you fully understand your company's objectives. Examine the most common use cases, specific functionality, and the motivation for your purchase. If you want to provide completely individualized experiences, for example, you should seek a solution that has API connectors and core marketing tools. Consider the many data sources from which the system will obtain data. 
How does healthcare CRM help ensure patient loyalty?
Customer support agents may send a range of messages based on communication preferences using a holistic picture of audience demographics. Follow-up notes, wellness recommendations, post-discharge communications, and appointment reminders are examples of these. Patients like to interact with businesses that respond to their requirements, thus tailored communications can boost patient engagement and loyalty. 
How can you demonstrate Marketing ROI?
A CRM for health care aids in the planning, implementation, and evaluation of marketing efforts. You may monitor progress and check performance in real time throughout the campaign's lifespan. The system provides thorough reports that show which campaigns are generating leads, getting patients, and growing profitably. 
Medical CRM integration
Practical Management 
Integration with a practice management system aid in the administration of administrative procedures in practice, a hospital, or another healthcare facility. It can automate operations that would take many hours to accomplish manually, allowing you to focus on more essential responsibilities. Billing information, such as late payments and insurance provider information, may be automatically entered into the CRM. 
EHR & EMR
The integration of electronic health records and electronic medical records simplifies and automates manual processes otherwise. Electronic medical records and records systems (EMR) automatically record medical inputs rather than administrative information about your patients. 
After your patients attend a date, they are diagnosed and treated, this information is recorded in the electronic health record and/or electronic medical records. With the integration in place, these data are automatically entered into the patient's identification file in CRM, giving you a full display of your patients. 
Syncing your EMR or EHR with your healthcare CRM helps to promote patient engagement. For example, if you have a patient who is receiving a certain type of treatment, you can use your CRM to add them to a group of patients who will receive offers and information that is relevant to their treatment plan. 
Patient Portal
Make sure your patients have easy access to their medical records. Patients can schedule an appointment through a patient portal and have it automatically logged in to their CRM profile. The automated appointment record system keeps track of when patients made appointments, when they took place, and what they were for. 
Healthcare Analysis
Use robust and secure reporting tools to analyze data from your CRM, and use this information to improve your medical insights. 
ERx
Validate prescriptions fast by cross-referencing them with patient characteristics. 
Telehealth
Healthcare experts can provide remote consultations by reviewing patients' whole interaction history. 
Me
dical IoT
By linking your CRM to their smart devices, you can keep an eye on their situations in real-time and have access to actionable data faster. 
Revenue cycle management
By connecting billing information to patient profiles, you may simplify payments and expedite accounting procedures. 
Patient-Generated health data
Compile patients' comprehensive medical histories by integrating data from various medical equipment and allowing them to manually enter data. 
Quality checklist for Healthcare CRM 
Security
To secure sensitive information from cyber-attacks, a medical CRM system must include cutting-edge security technologies. 
Interoperability
Look for a platform that allows you to connect to third-party systems via APIs or bespoke connectors. To ensure that data flows freely across the company, all systems must be interoperable and linked. 
Flexibility
Your CRM system should be adaptable enough to meet changing company requirements. Select a platform that allows you to personalize it according to your needs. 
Ease of use 
A logical and user-friendly UI/UX should be present in a healthcare CRM to decrease manual labor and streamline everyday activities. 
Cross-platform compatibility  
Any operating system and the device should be able to use a CRM that is really accessible. Choose a tool that can operate on all main platforms and be deployed locally or in the cloud. 
Manageability
Administrators and executives must have simple access to internal workflow and user account management. 
Best CRM Software for Healthcare
It is difficult to find and select the finest healthcare CRM for your firm. To that aim, our researchers have developed a list of the top CRM software packages that provide the finest functionality for healthcare firms. Let's take a look at each of them individually in part 2 of this article. 
Consult us if you need help with implementation; we're specialists in CRM and ERP setup. Among the industries in which we have worked are manufacturing, healthcare, and services. Target Integration is based in Ireland and has offices there as well as in the US, UK, and India. You can get in touch with us there.