Importance Of CRM & ERP Implementation Partner
A lot of companies these days are building an in-house IT team for handling IT operations for their organisation. But what if they lack the skills to implement a software that they have heard for the first time? They might also lack the bandwidth to implement the chosen CRM or ERP software.
In such a scenario, considering an implementation partner is the best thing to do. With this one smart decision, you can get both cost-effective & highly functional CRM implemented for your organisation.
Read on to learn 5 reasons why you need a CRM/ ERP Implementation partner for your organisation.

CRM/ERP Project | 5 Reasons Why You Need A CRM/ERP Implementation Partner
1. Save your precious time
When you work with a technology partner, you get instant access to expertise. While you might think you have experts in-house, switching to a CRM tool is a complex & time-consuming process. For someone who's not familiar with the software, the effort & time is only compounded by many times.  Moreover, it also costs you to pull resources from an ongoing project & put them on a new, rather daunting project.  
Hiring an expert CRM & ERP implementation partner such as Target Integration can save you an enormous amount of precious time. As they say – time is money, right?
Leverage our expertise with these proven implementation strategies proven track record of successful CRM/ERP implementation services.
2. Invest right with a CRM/ERP technology partner
According to a 2014 Nucleus Research study, the average return on a CRM investment is $8.71 for every $1.00 invested. That's great!
But to hit these numbers, you not only need to invest in the right CRM tool, but you also need to make sure that your employees are trained to efficiently use the new CRM/ERP system. To make sure that every member of the organisation is digitally educated & thorough with the various features & flows of the CRM or ERP software – you need a technology partner.
Get the most out of both human & technology resources. Connect with us for more information.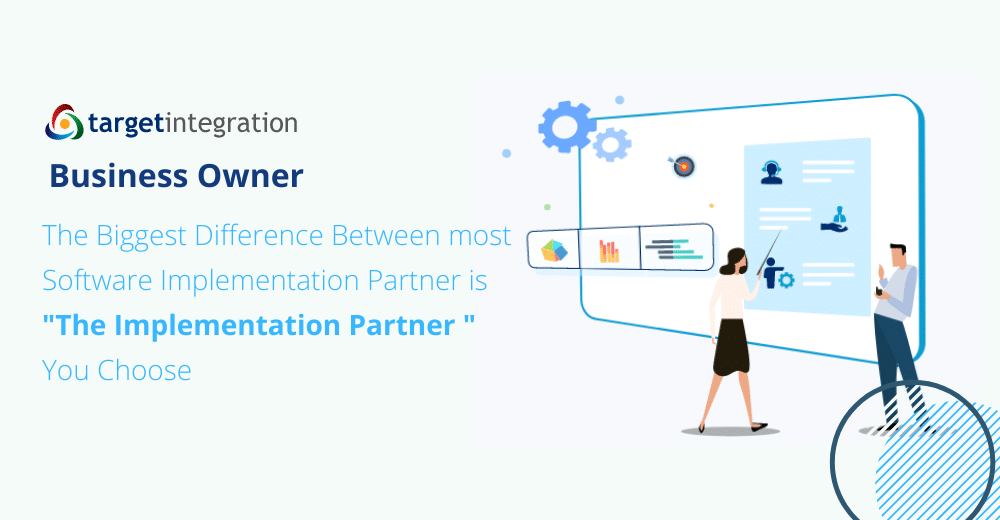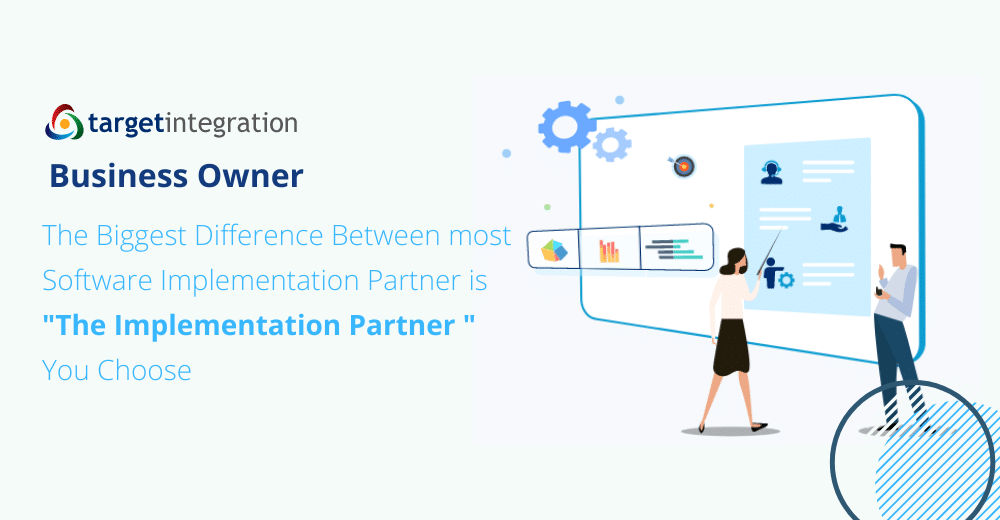 3. Ensure CRM/ ERP implementation success
Research over the past two decades has suggested that CRM implementations have failed between 30% and 70% of the time. Why? You may ask! Because there's a lot of inconsistency that defines both success and failure. Nonetheless, these percentages can still make a lot of new CRM/ERP adopters very nervous as investing in a CRM or ERP systems is a fairly expensive affair. 
That's why it's important to consider a CRM/ERP implementation technology partner. A seasoned CRM/ERP Partner will stick around beyond the CRM/ERP software system implementation phase. This ensures that your team learns and manages the system. The training offered by CRM/ERP Software service partners like Target Integration can dramatically affect the benefits you would reap from a CRM/ERP tool
4. Value-Added Services for your CRM/ERP tool
Value-added resellers (VAR) adds a bundle of additional services to your CRM. For instance, the CRM/ERP implementation partner will provide you with a lot of useful resources when you onboard them. This includes software licenses, add-ons, customisations, technical consulting, staff training, software support, and many more support services.
At  Target Integration, we offer our various CRM/ERP implementation plans for you to choose from. These CRM/ERP implementation plans include access to exclusive add-ons and various customisation options. Additionally,  we also provide functional development and technical support to maximise CRM/ERP software solution value.
5. Improve long-term viability
A good CRM or an ERP system is similar to a good car. It can perform for an extended time, only if you maintain it properly. Your CRM/ERP implementation partner also ensures that your CRM is still going strong years down the line. They can also help you maintain it over time by proposing precise mechanisms for your software & best practice for your internal IT team to follow.
For example, at Target Integration, we offer monthly/yearly subscriptions for system check-ups, CRM or ERP consultant deep-dive sessions and staff onsite workshops, and an ever-expanding suite of customisations to keep your internal team and your Software system buzzing along in unison for years to come.
How does Target Integration ensure a successful  CRM/ ERP Implementation?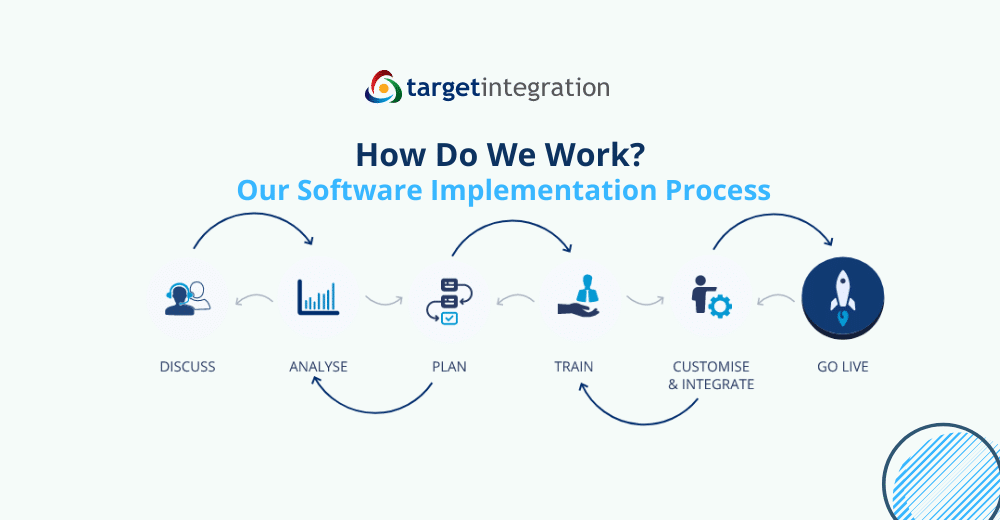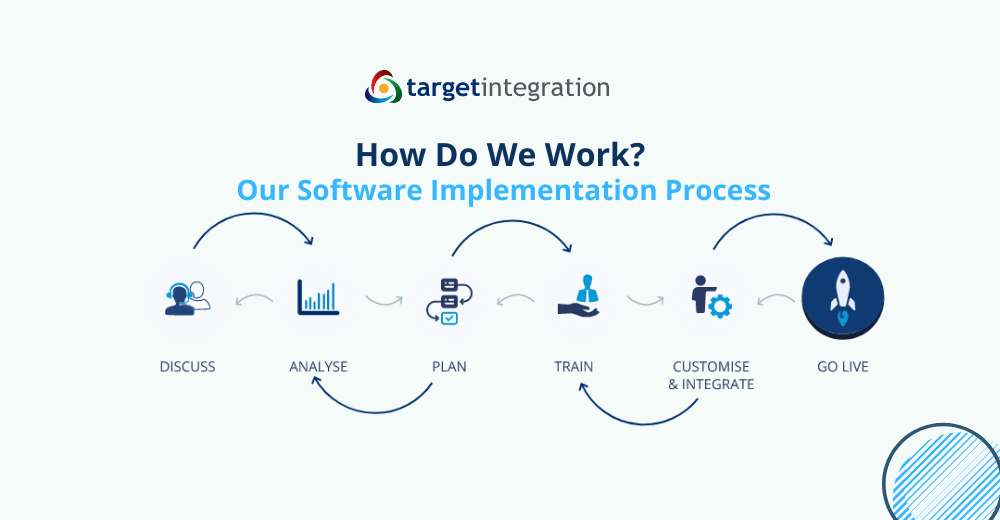 Selection of the right CRM/ERP implementation partner is utmost important. Without a skilled professional guide by your side, you may run the risk of falling into a category of that 29% of failed Software(CRM/ERP) implementations. We believe if the CRM or ERP implementation is done right then it can transform your business, but if done wrong, it will only add to the cost & complexities of your business.
That's why we developed the different CRM/ERP Implementation Service Plans exclusively for you to choose from as a structured approach to CRM/ERP adoption.
We hope this blog would have added some value in your research on why you need a CRM/ERP implementation partner
Comment in the box below and let us know your thoughts. Ask away any questions on business automation. You can book a free demo too!
Stay Digital & Stay Safe!