Current reality 
Creating, maintaining, and distributing papers account for approximately 15% of an organization's expenses on an average. Every year, the average office worker consumes 10,000 sheets of paper. To make matters worse, 45 per cent of the paper printed in offices is thrown away at the end of the day.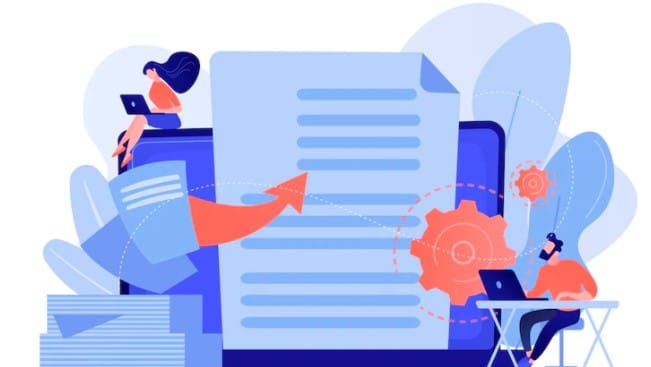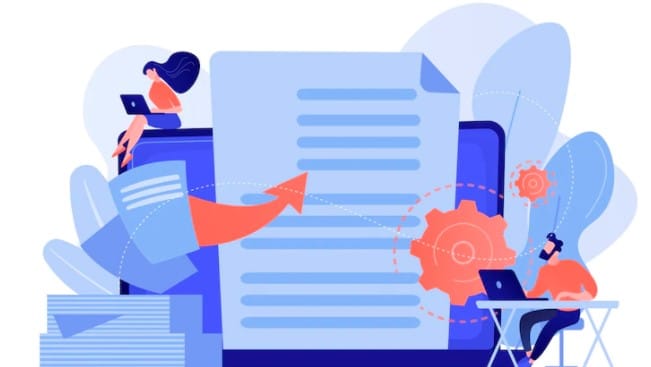 To give you an idea, this is how paperwork is approved and signed in your organization. 
Let's say your office manager, Stacy, gets a document through email. 
She had it printed.

 

She went to the office of a manager to get a signature.

 

She had the option of interrupting the manager to sign the document herself or returning later.

 

She took the document back to her office and scanned it.

 

The document needed to be uploaded into the document management system after that.

 
Finally, she needed to locate the requestor's email address and deliver the PDF to them.

 
Doesn't seem that efficient, does it? Or have you ever thought about how much time you spend in this process? 
Paper has been the major mode of communication for generations. However, it has now turned into a burden rather than a benefit. When you add it all up, you waste 33 minutes of labour each page on average, not including the time it takes to buy paper and manage printers. 
Making the transition to a paperless office is not only beneficial for the environment, but it also improves your efficiency, saves resources, and speeds up document processing. 
The identical signature request may now be completed in 2 minutes on average, with a maximum of 5 clicks, thanks to the Odoo implementation: 
The email is forwarded to the document gateway by Stacy.

 

She drags and drops the spots that the manager should fill/sign, then clicks "Send."

 

With a single click, the manager may complete the paper and sign it.

 
The rest is automated, including reminding the manager to sign a document if he forgets, indexing the finished PDF in the document management system, and forwarding the document to requestors. In an emergency, the manager can even sign the paper from his phone, which normally speeds up the procedure. 
Processing the incoming letters 
You may use Odoo's Documents app to organise your document intake. Odoo has everything you'll need to handle documents in batches, including an email gateway, pre-configured bulk actions, a PDF splitter, and previews. All processing papers may be pushed into Odoo's document management system. You may either manually upload documents or use the email gateway. Odoo will produce a document for each attachment when an email is forwarded to the address of the gateway. 


Use the Documents app's Configuration > Emails & Links menu to add new email addresses to your inbox. Two email addresses are defined by default: [email protected] for the primary inbox and [email protected] for papers to be processed by the accounting and finance department, such as vendor bills. Each department that receives incoming papers can be assigned to an email address.  
The good news is that using Odoo online requires no technical knowledge! There's no need to establish an email server—just create a new email in the UI and it'll function straight away.  
Getting a Document Ready to Sign  
The Odoo Sign app, which is completely integrated with the Document app, may be used to process documents for signing. Let's imagine you have a contract in your email that requires the signature of a manager. You may operate "Request a signature" after selecting the file in the document browser or with the split tool.   
Odoo then presents an interface that allows you to drag fields into which you want the manager to enter data or sign. Strike choices, initials, and a signature are examples of different sorts of fields.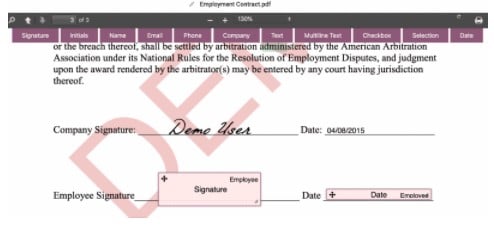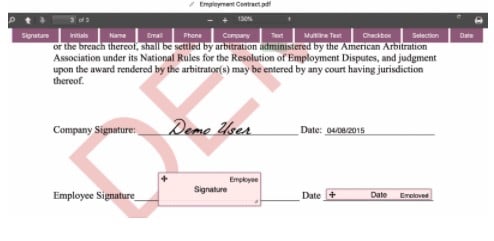 After that, click 'send' and enter the manager's email address. He'll be able to read, fill in the blanks, and sign the paper. That's all! There is nothing else to do:  
There's no need to save it in your document management system because it'll be done for you automatically. 

 
There's no need to remind your boss to sign; Odoo will remind him regularly. 

 

There's no need to deliver signed papers to suppliers; if you place them in CC, they'll get a signed copy instantly. 

 
Because there is no back and forth between the employees, the flow is significantly faster than dealing with paper documents. The secretary finishes preparing the documentation. After that, Odoo will manage the remainder of the procedure for you.  
Few additional ways in which Odoo can be beneficial for your company.  
Many additional procedures rely largely on paper that might be improved. Some instances are as follows:  
Employee expenses: The Odoo Expenses app may be used to track tickets. It allows you to register a cost by simply photographing your tickets on your phone.  
Sales contract: To avoid having your consumers sign contracts by hand, use electronic signatures or online payments on your sales orders. You may use the Odoo Sign app and its "share" option to create a reusable template for each customer if you sell using a complicated contract.  
Purchases: The Odoo Purchase app may be used to manage purchase orders.  
Production processes: Instead of utilizing paper for worksheets or quality documentation, use the work center control panel with tablets in each workstation in your manufacturing line.  
Odoo implementation offers greater features and capabilities. So, if you want a centralized Odoo CRM for your business, Target Integration is always available to assist you. Contact us for any further queries.