Customer Persona | Know better marketing solutions with ClickDimensions
The way companies marketed earlier and sell now has changed significantly, due to the internet and social media. As a result, buyers are smarter now. Moreover, they have any information they want at their fingertips at any given time. Hence, they expect more timely and personalized interactions from companies. For instance, approx 89% of customers begin their buying process with a search engine.
As a result, to compete in today's market, marketing automation is a must! 80% of marketers are using marketing automation software for every kind of marketing goal mentioned in a source at LinkedIn.
With marketing automation software solutions you have the ability to generate more leads and close more deals faster. Not only this, accurately measure the marketing success rate with all your marketing efforts.
ClickDimensions | Intelligent Automation features for Marketing & Sales
"You can't sell anything if you can't tell anything." Beth Comstock
Marketing Automation is the technology that is helping companies to attract, engage and nurture leads & customers.
Truly, it helps companies to target leads. Admittedly, get customer experience success with a great line of leads & prospects into your sales pipeline through a variety of marketing activities. Further, it helps improve customers' interaction & experience with automated messages across various platforms like email, web, social, and text.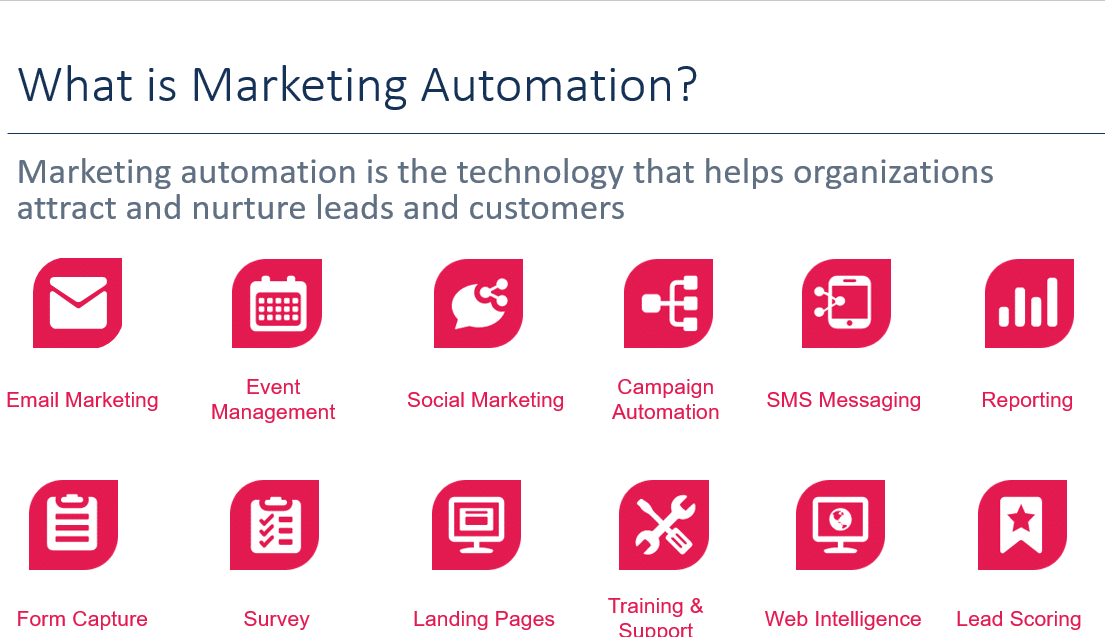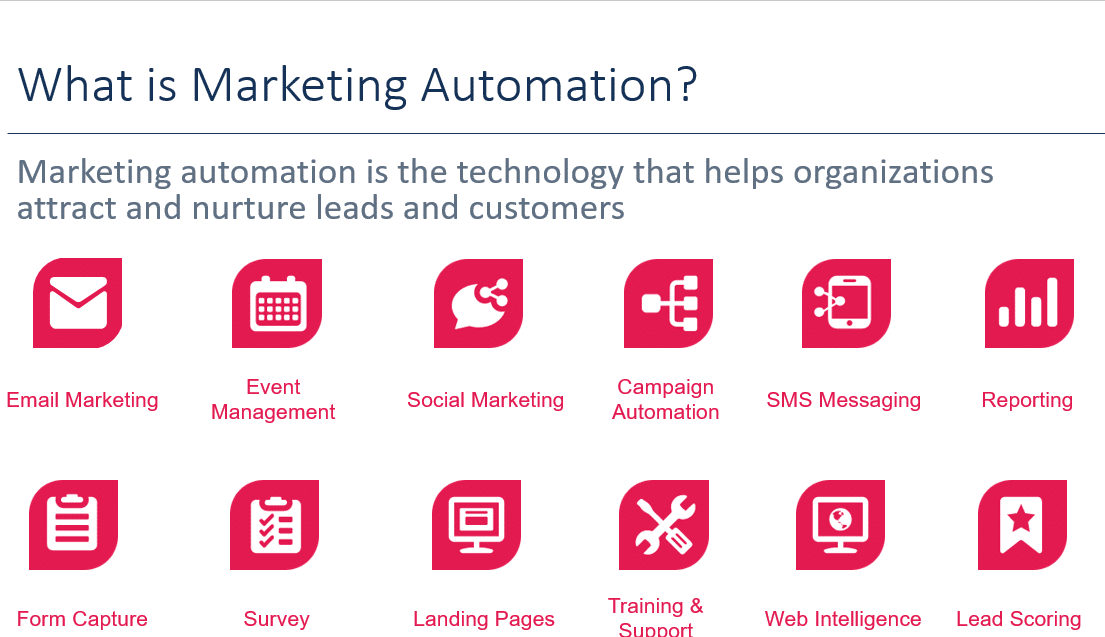 1. Simplify Event Management – Integrate with event and webinar solutions.
2. Email Marketing – Easily create compelling email campaigns.
3. Social Media Marketing – Engage customers across social channels.
4. Lead Scoring – Get to know which lead is important & set priorities.
5. SMS messaging – Reach prospects with SMS marketing.
6. Reporting & Analytics – Evaluate the success of your sales and marketing efforts.
7. Web Form Capture – Capture and identify new prospects with web forms.
8. Online Survey – Gather insights through surveys.
9. Landing Pages – Create beautiful landing pages with templates without knowing code.
10. Training & Support – Get training & support assistance.
11. Web Intelligence – Discover interested prospects through web intelligence
12. Campaign Automation – Put your campaigns on auto-pilot.
ClickDimensions or MS Dynamics 365 for Marketing?
Now, the Microsoft Dynamics 365 ecosystem has two main marketing automation solutions: Dynamics 365 Marketing and ClickDimensions. 
Specifically, each product has its distinct advantages that make one solution better for a business compared to the other. Consequently, ClickDimensions is the largest marketing automation Independent Software Vendor (ISV) for Microsoft Dynamics 365 and one of the largest ISV – all categories included – of the Microsoft Dynamics 365 ecosystem.
Furthermore, ClickDimensions has been doing marketing automation software made exclusively for Microsoft Dynamics 365 for the last decade. Therefore, you can imagine, they have seen customers of many sizes and industries, as well as customers who want to implement different marketing strategies. Also, due to this experience, the solution has been greatly improved over the last 10 years with features that came out of customers' requests. Further, the solution is extremely stable. 
Here, in this blog, we will be addressing why you must give ClickDimensions at least a one time try over Dynamics 365. So, let's get started.
5 bonus points to ClickDimensions over MS D365 marketing
In the final analysis, you can adapt all marketing trends with both the marketing automation software solutions. But there are additional benefits of ClickDimensions over Microsoft Dynamics 365 marketing. To conclude, ClickDimensions may be a better fit for your marketing goals. Henceforth, learn more about ClickDimensions, contact here.
Over 3/4 of CRM users have integrated their CRM with their marketing automation solution to improve data management and ease of the process. But ClickDimensions is natively built inside Dynamics 365. That means, there is no associated cost of third-party app integration. Therefore, get a hassle-free synchronised data flowing inside Dynamics 365 for all your online marketing campaigns. Moreover, have a look at below mentioned too.
Microsoft Dynamics 365 marketing area –
Speed up campaign creation.

Easily coordinate team activity.

Track campaign effectiveness. 

Hear what people are saying about your campaign.
Adding in ClickDimensions gives all the benefits as mentioned above, but you can additionally perform the following.
Discover where your sales are coming from & understand your prospects better.

Never miss an opportunity to capture a prospect's info.

Nurture leads until they are ready to buy. Never hand over dud leads again.

Capture event information within Dynamics 365.

Send personalized communication that converts. Use surveys to engage more with your prospects.
If you need help in figuring out which of these solutions is right for you, please contact us. Our certified consultants will be happy to serve you.
7 B2B Social Marketing tips in ClickDimensions
Do more with these tools for your B2B prospects & leads. Designed for the unique needs of marketers. Now, get beyond publishing & social listening.
Create Engaging Campaigns

– Use a leads social activity in scoring, segmentation, campaign automation & lead source attribution.

Curate Right Content

– Source content that can be used in your social campaigns.

Intelligent Scheduling

– Efficiently schedule & manage content across a range of profiles & networks.

Social Advocacy

– Empower your colleagues & partners to amplify your efforts, creating more reach with fewer efforts.

Integration with Dynamics

– Move beyond likes, clicks & shares. Show the true impact on revenue & sales pipeline.
3 Goodies of ClickDimensions| Get along with marketing trends
Get  Business Intelligence Features and an Integration with Google Analytics.
ClickDimensions acquired Sweetspot, a marketing dashboard provider, in 2019. As a result, the features provided by Sweetspot are now included in all ClickDimensions subscriptions.
Get help with your Data Cleansing for right audience targeting.
Certainly, a great solution to initiate a re-permission marketing campaign. For instance, ClickDimensions offers great features that allow marketers to analyze their bounces by giving insights into why an email address bounced. Additionally, this ensured that even more relevant contacts were tracked in Microsoft Dynamics 365 Sales!
Create and nurture leads by running multiple marketing campaigns.
It is a user-friendly solution. Therefore, adapt quickly. Furthermore, you can extend and connect with various marketing apps. To summarise, invest with confidence in this automation software to drive innovation in your marketing tasks.
Want to try ClickDimensions? Register for the free webinar
So, now you can decide between Microsoft Dynamics 365 Marketing and ClickDimensions as your marketing automation solution. In fact, both products are great, yet one of them might be significantly better for you and your business over the other one. to conclude, with ClickDimensions partner, make better decisions with these additional features.
Also, we are hosting a free upcoming online webinar on ClickDimensions on 24th June 2020 to help our users see what this could look like. Register & see complete details on the webinar here. Ask your queries at the end of the session from our experts.
If you are interested in getting started quickly with ClickDimensions full-featured marketing automation solution, Check out our implementation services on our website.