SAP Business ByDesign is easy to use so that your employees can use it smoothly without exhaustive training. It is a cloud-based solution and a good preference for Medium-sized and small-sized businesses that can scale.   
Here is a small demo of Procure to Pay process in SAP Business ByDesign: 
To start our process, Let's create a purchase request.   
Let me take you to the purchase request and order Work Centre. And then create a purchase order.   
1. Creating Purchase Request
Workcenter > Click new > purchase request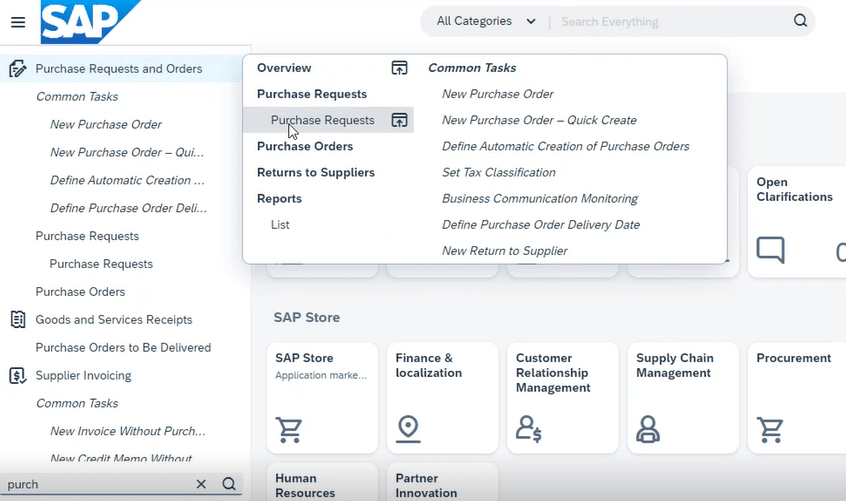 A Purchase request menu will pop up. It will be followed with a purchase request form. Enter the product id, quantity, ship to location id etc on the row.  
After entering the required data, click on the 'Check' button for a quick review of the data. It will check if all the necessary details are completed or not. Or else, gives an error message.   
Save the message once it shows a no error message at the bottom. To complete the process of requesting a purchase, you need to Release the order by clicking on the 'Release' button.   
2. Creating Purchase Order
Now create a new purchase order based on the released Purchase Request.   
All purchase requests> click to execute the query > Click on the 'New Purchase Order' 
The system will copy all the data from the purchase request to the purchase order form.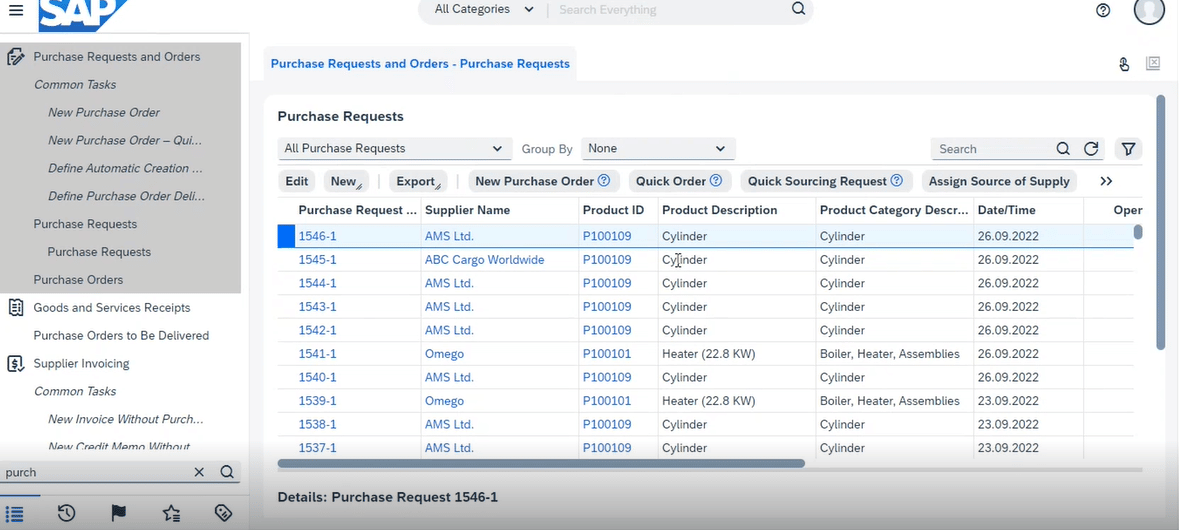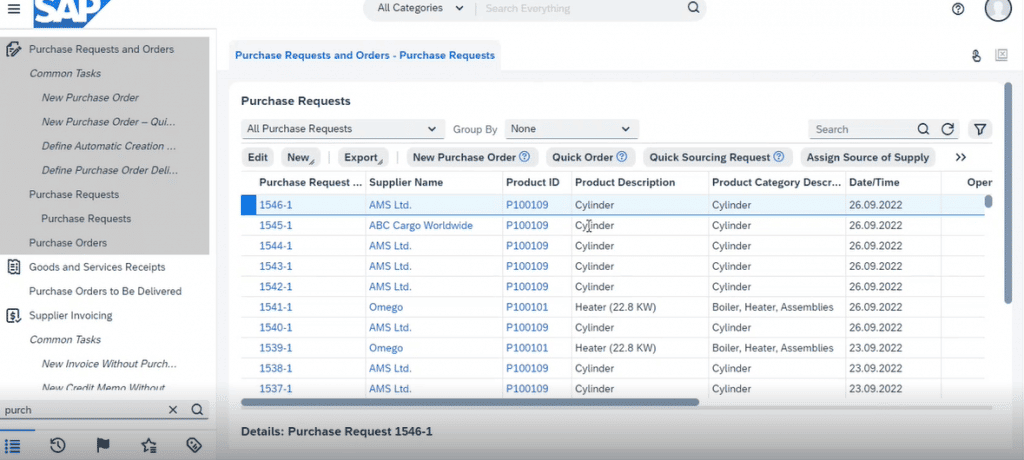 Do the needed changes, for example, supplier, date etc. in the order. Save the document.  
Save the document by clicking the 'Save' button to save this purchase order. Now click the 'Order' button to send it to the supplier.   
3. Creating Inbound Delivery Receipt
The order-to-pay process is incomplete without a delivery receipt. After your goods have arrived, to generate Post Good Receipt, go to:   
Inbound Logistics WorkCentre > Purchase orders > Post-Good Receipt.   
Enter the delivery notification ID, enter the amount and other data according to the shipment etc. in the create 'Inbound Delivery and Goods Receipt' form. Save and close.   
Thus, an Inbound Delivery receipt will be created.   
4. Creating Supplier Invoice
For the last step, to create the supplier invoice, the user goes to the Supplier Invoicing WorkCentre.   
Select > Invoice entry. Select the respective inbound delivery and click on 'New Invoice'.   
5. Payment
WorkCentre> Payables> Supplier Accounts > Trade Payables  
To Pay, click pay manually> outgoing check. > give check number and bank details and then save.  
This is how the Procurement to Pay process in SAP Business ByDesign is done. This is explained by one of the Target Integration's SAP ByDesign Consultants, Deepika.   
Target Integration is an SAP Business ByDesign Partner
Having experience in the Small and Medium Business sectors implementing various ERP solutions, Target Integration believes in running the race with the latest technology enhancements. Being an ERP implementation partner in the UK and Ireland, we recognise ByDesign as a powerful & secure ERP solution for procurement and manufacturing businesses. To know more about your business's fit with SAP, get in touch with our experts