Based on the webinar 'How to get the best out of your SAP B1 investment?' by Martin Wright and Muzammil Jamal
SAP Business One is a widely used well-known ERP Software finely tailored by SAP exclusively for small and medium-sized businesses. It is not often fully utilised for its functionalities. It is an Enterprise resource planning software where you deal with physical products and their transport. Let us explore all the prominent areas of its usage. 
SAP Business One Cockpit (Dashboard)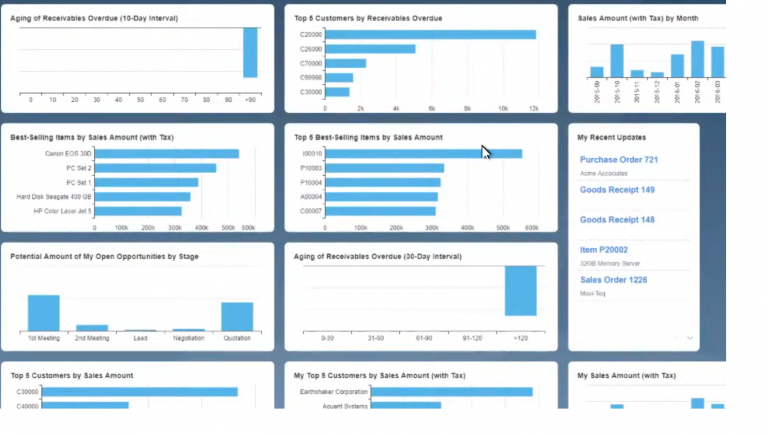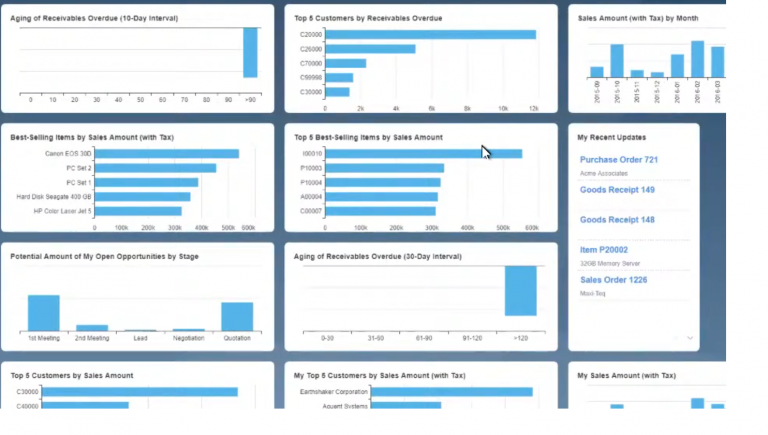 This home page of SAP Business One shows all the reports you need in a good visual display. It is a convenient arrangement of individual tiles from various reports. It is customisable for each user profile. For example, a sales manager need not have a dashboard like an accounts manager. 
To know how to add a customised tile to the dashboard, watch the video  
Make the most out of SAP Business One Reports 
In order to get the best out of SAP B1, you need to understand its main functionalities. Apart from using SAP B1 only for one of its functionalities, let's explore more.  
1. Evaluating performance
Using KPI reports we can track the performance of the teams and the team members on a daily weekly or monthly basis. For example, if we consider the sales team as the driving force of a company, evaluating the sales team is an important task. Those using SAP B1 will be able to evaluate the performance of the sales team using the KPIs and dashboard. The real-time display will enhance it even more. Using these analytical reports, you can make better, faster decisions in comparison with many factors.  
If you have enough historical data, with proper forecasting, you can predict overstocking and understocking. Without a proper forecast in place, there is a potential risk of either overstocking or running out of stock. Both the scenarios are not healthy as they are directly associated with cost.    
 Another burden on any business is deadstock items. Deadstock items are not good news to cash flow. With the material resource planning (MRP) module in SAP B1, you can forecast and plan on what stocks not to keep and order any requirements that are going to run out soon. 
Storage and warehousing are the next costliest area of a company after its employees. Inventory Management not only helps to keep the unwanted cost in check but also helps to find new opportunities.   
And in terms of inventory management, these reports are there to help you to get the best out of the investment. 
Inventory turnover report- helps in getting the information in terms of turnover of stock in inventory.   
Stock overview report- It is the details of stock available across different locations of warehouses. Each storage location and warehouse are defined for each item.   
Eventually, inventory management not only helps us to keep our cause in check but also to find new opportunities.   
Before building the strategy, it is obvious that you should ask the right questions, based on what kind of questions you want to be answered or what outcome you want. A good growth strategy is strongly data-driven. And to do so, SAP Business One helps in clear reporting and powerful automation.   
There is no growth if there is no strategy behind it. Every company needs a solid strategy and the only thing that helps in building one is clear and concise reports.   
For example, SAP B1 reports identify slow-moving items. For such items, we can execute plans to sell them quickly, like giving special offers. These data will be useful in the future to recognize such orders so that we can avoid overstocking or identify slow-moving items.
Knowing the right type of vendor to work with greatly improves the chances of increasing profits. We want to work with obviously the best vendors for an item. A vendor identification system makes it easy to identify which vendor you want to work for which item. This will be on the basis of the past data that is available for many vendors you have dealt with. This system makes it easy now to easily identify which one to choose for which item.
Target Integration understands businesses in many verticals, as it has been in the digital transformation journey with many in SME sectors for over a decade. Headquartered in Ireland, it has offices in India, the UK and the US. Our consultants have experience in implementing as well as tailoring the package with necessary automation and integrations.  
If your business is looking for a new SAP Business One partner, connect with us, or book an appointment for an evaluation.