Are you unsure about how drip marketing works? Here are a few helpful tips on how and why you should use drip marketing;
It's a drip and grip for your customer.

It is based on user's response.

It is pre-planned.

It is automated and sent on schedule time.

It provides you with fully automated movement.

It can Save you time and effort.
Drip mailing helps in pushing the leads towards conversion without manual intervention.  Your team will be left with more time to invest with other tasks, like visualising other funnels to close more deals, planning other marketing campaigns, and actually talking to the prospects.
The scope of email marketing automation extends well beyond converting prospects to customers or getting the shoppers to finish their purchase. After the sale is closed, you can build a stronger customer relationship to give more business to your organisation –
In the case of single sale products – to recommend you to their friends.

In the case of subscription sales – renew their subscription.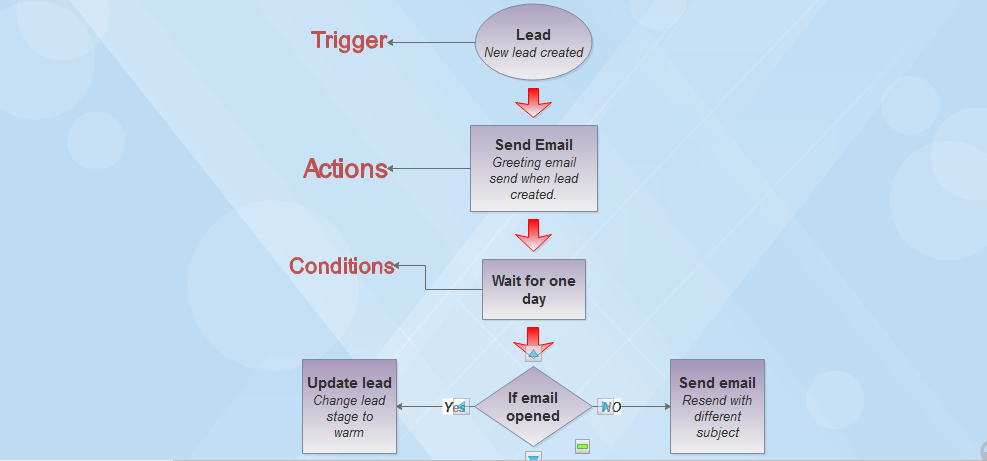 Key elements of drip marketing are;
Triggers-Set your event on a specific date, on lead creation or on specific activity by a lead. For example- when a first-time user registers on your online store, someone subscribing to your blog or someone leaving an item unpurchased in their shopping cart
Conditions- After a lead is created wait for 3 days to send him the first email after the 1st email has been sent out wait for the lead to click on a particular link of the email to send out the 2nd email.
Actions- In drip marketing, a sequence of emails & SMS to be sent on specific conditions being set up.