Introduction 
When was the last time you called customer service and navigated a maze of options just to be put on hold for many minutes before hearing these words: "Hello, how may I serve you today?"  
We've all been there, but have you ever thought about what it's like on the other side? Imagine being asked the same question by 100 different clients 100 times a day. Or, even worse, not knowing the answers to any of them. That is the challenge that customer service representatives face daily.  
How do companies deliver exceptional customer service in a world where consumer loyalty is eroding? Artificial Intelligence has the key.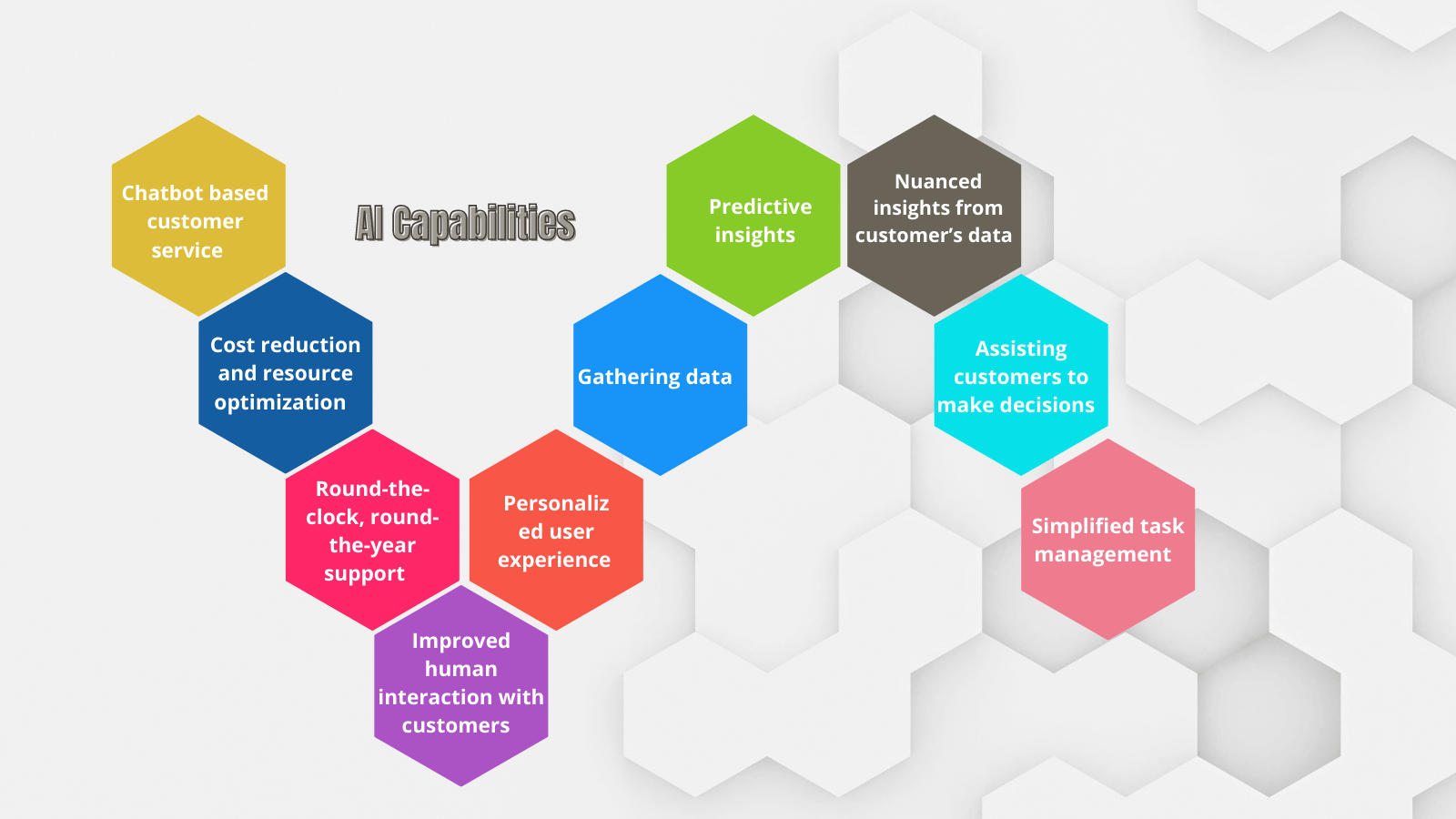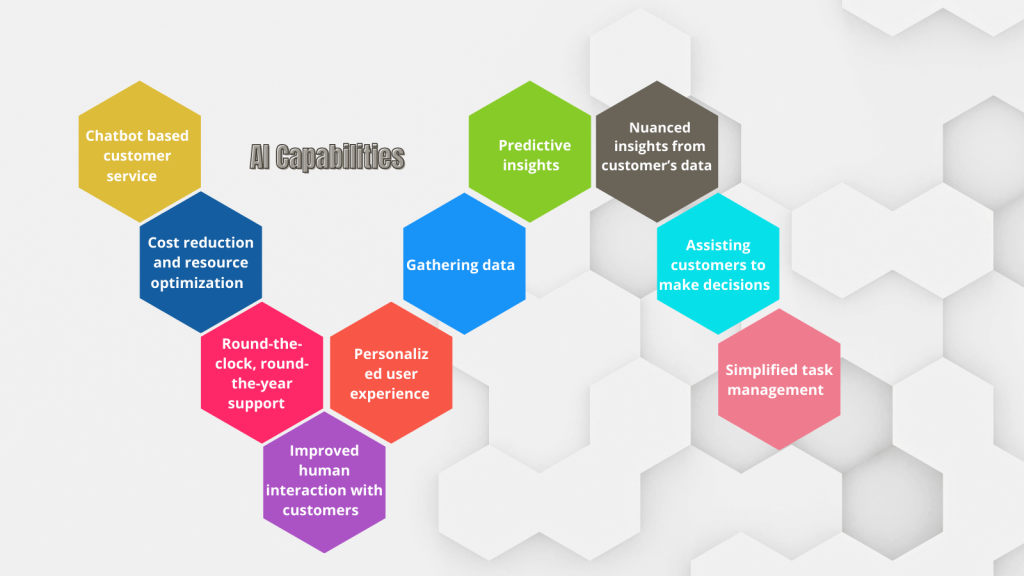 Let's take a look at 10 ways AI may improve customer service.  
1. Chatbot based customer service 
Daily, customer service employees are responsible for handling a huge number of consumer calls. They also have the task of minimizing the average time it takes to resolve a customer's issue. To solve both of these issues, chatbots play a critical role. Chatbots can not only deliver rapid replies with lightning-fast responses in real-time, but they can also relieve the load on human agents by addressing a large number of client enquiries with the greatest accuracy and human-like behaviour, reducing the pressure on human agents. By 2020, Gartner predicts that more than 85 per cent of consumer transactions will be handled without human intervention.  
2. Cost reduction and resource optimisation  
Businesses spend more than $1.3 trillion on 265 billion customer support contacts each year, according to IBM. Chatbots may help organisations save money on customer support by shortening response times, freeing up people for more difficult tasks, and answering up to 80% of common inquiries. Contact computerisation is an excellent illustration of this, as it combines machine learning and superior speech recognition to improve traditional interactive voice response systems while saving 60 to 80 per cent in comparison to human-powered outsourced call centres.  
3. Round-the-clock, round-the-year support 
Customers expect to be served on their terms. They want brands to be accessible and responsive throughout the year. It may be achievable with automated customer service. It allows companies to provide round-the-clock customer service and swiftly resolve issues.  
Customers may get their questions answered 24 hours a day, seven days a week, without having to wait a significant amount of time for a response. This would not only help to increase customer happiness and provide exceptional customer service, but it would also help to build a brand reputation and increase customer loyalty.  
4. Improved human interaction with customers
Artificial intelligence has the ability to improve human-to-human interactions with clients considerably. Two of the most essential ways AI is improving customer service are AI-augmented messaging and AI email tagging. With the aid of chatbot assistants, AI-augmented messaging allows customer care workers to manage a large portion of consumer concerns. 
By having AI-powered algorithms we can scan emails, categorize them, and direct them to the appropriate office, people can save the time it takes to read every customer's email. This would allow service representatives to save time and focus on more complicated activities that require human interaction.  
5. Personalized user experience
According to studies, 71% of customers want to be able to resolve customer care concerns on their own. AI has the potential to help clients locate the information they need more quickly. AI can analyze large data sets, extract information such as weather and location, and recommend relevant content to clients. 
Businesses may focus on individual purchase behaviours and gain a deeper knowledge of each consumer by building customer personas. This allows them to give customers relevant material at the correct time and through the appropriate channels. As a consequence, customers may solve problems without having to contact customer support.  
6. Gathering data  
Based on the consumers' behavioural patterns, AI simplifies and unifies data collection to produce a single customer perspective. Initially, AI was reliant on the clients' existing data, which was manually supplied into the system. 
The latest AI-powered systems are better at proactively seeking data from clients without the need for human participation. They can quickly evaluate client behaviour patterns and respond to their demands and feelings. They are fast to answer and understand when to ask follow-up inquiries.  
After acquiring the necessary data, AI systems may analyse it and take further steps to assist clients in their purchasing journey. Businesses that have incorporated AI into their systems are now reaping the benefits of data collecting and storage, as well as a reduction in real-time processing without the need for human interaction.  
7. Predictive insights  
Businesses must create experiences that become ingrained in the lives of their consumers. Predictive personalisation gives buyers the impression that each product, service, or brand is created particularly for them. Businesses that have incorporated Artificial intelligence into their systems have enhanced their customer relationships by offering relevant information to their customers. Transparency and communication have improved as a result of this. AI with predictive insights has improved their work by allowing them to quickly assess prior goods, inventory, or services to propose items that are relevant to the consumer.  
8. Nuanced insights from customer's data
Brands may now gain detailed insights into their consumers, thanks to AI in customer analytics. Data mining used to be time-consuming in the absence of AI. AI-powered systems can now collect and analyse massive volumes of data and extract insights, potentially opening up new commercial prospects. 
Brands may evaluate every consumer's behaviour, and utilise these insights to build successful customised marketing campaigns by properly using AI. They are capable of proactively addressing difficulties and identifying the wants and expectations of clients. 
Products and services can, for example, be positioned in stores where customers are most likely to spend time. AI can assist organisations in achieving their goals, providing valuable insights, eliminating human mistakes and biases, and freeing up human resources for other work.  
9. Assisting customers to make decisions
Around 80% of customers think AI-powered chatbots can help them make better purchasing decisions than people. Customers nowadays interact with companies across devices, necessitating unique touchpoints to enhance the customer's decision-making process.  
Automated AI-powered assistants respond to consumer questions in real-time, gather detailed information about the product or service, and provide advice to help customers make the best decisions possible. Humans save time as a result of this, and they are free to do other things. It also accelerates the resolution process by quickly identifying and offering solutions. 
If the exchanges between the consumer and the chatbot get too complicated, they are passed on to a human agent. Bots may learn from recurring challenges and deliver precise answers to a specific issue because of their machine learning capabilities. It can also detect human behaviour patterns, which are advantageous to both consumers and human representatives.  
10. Simplified task management  
Customer service bots or other systems are driven by Artificial intelligence are capable of completing many jobs at once. The connection between brands and customers has been transformed as a result of this. According to IBM, 52 per cent of consumers hung up on the customer service line because they didn't want to wait so long for a customer executive to respond, and roughly 50 per cent of customer support calls went unanswered. 
Brands are experimenting with ways to incorporate artificial intelligence (AI) into their operations so that they can interact directly with customers. While human workers are prone to burnout when dealing with large amounts of data, AI can provide clients with automatic responses as well as FAQ information. 
AI may also assist in data sorting, obtaining additional data, evaluating data, looking for essential data, answering repetitive inquiries, and doing mundane activities.  
In a nutshell 
To win consumers, keep them, and make them loyal to your company, organisations must integrate Artificial intelligence into their processes. AI improves the consumer experience and helps you remain ahead of the competition. It also makes customer service representatives' lives easier. AI automates rapid replies, personalisation, ticket routing to the appropriate team, data analysis, accelerating responses, identifying solutions, promoting products and services, prioritizing tickets or queries, and more, allowing people to focus on more complicated duties. Target Integration is one of the leading worldwide software providers for companies looking to alter their businesses through digital transformation. So, if you're interested in becoming our next client, please get in touch with us. Allow us to assist you with your transformation.