Small and midsize businesses may face numerous accounting hurdles. It takes a lot of time and resources for them to unwind. But with the SAP Business ByDesign, it's easier than ever.   
SAP ByDesign is a cloud ERP software provided by SAP SE. This software is completely run-on SAP's cloud server, backed by the SAP HANA database. Without the jargon of SAP used in big businesses, medium-sized businesses can run smoothly in their compact form without compromising the speed and quality of services.  
With ByDesign, it's easy to process invoices, audit the documents and check for exceptions to ensure accounting accuracy.  
This is a demo of the SAP Business ByDesign video by one of Target Integration's SAP ByDesign Consultants.
In this video, you will see how a purchase invoice is created in SAP ByDesign by two methods:  
One is a Stand-alone purchase invoice and the other is based on inbound delivery.   
Stand-alone invoice 
Let's see how a standalone invoice is made:   
Let's go to the 'Supplier Invoice' WorkCentre  
Select 'New Invoice Without Purchase Order'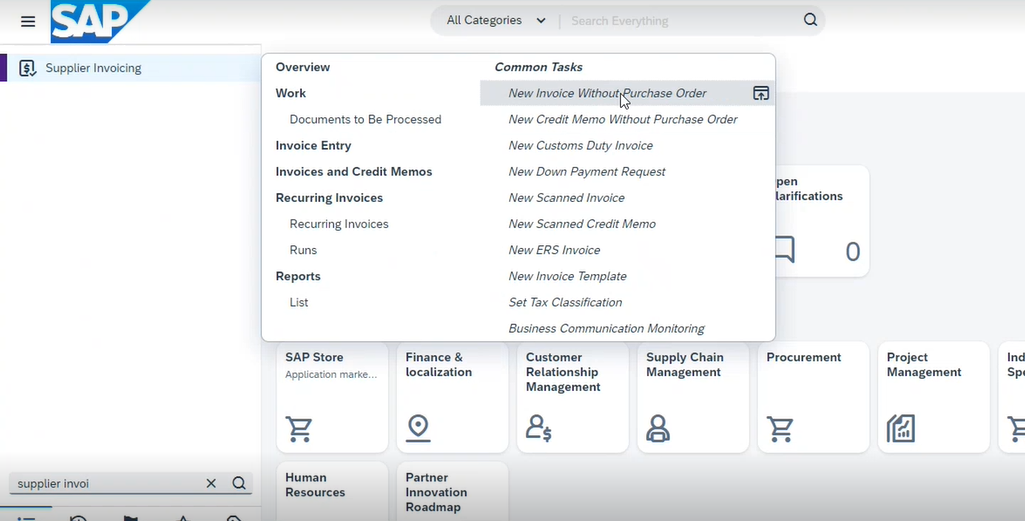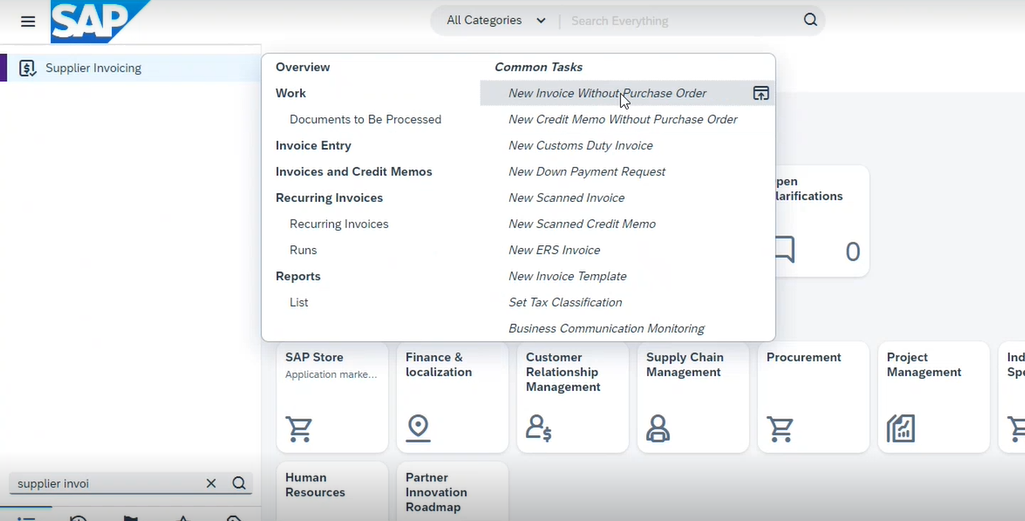 Select the respective supplier >  
Enter details such as,  
External document ID:  
Invoice date: set as today, and the same in   
Posting date field.  
Now let us select a product > enter product id, quantity, and the net price. To enter further details, expand the fields by clicking on the 'view all' button.  


Here, let's enter further details as per additional info> total gross amount > etc  
If these details aren't compliant with the formats, on clicking check, you'll get an error message. 
In this document here, the error message shows that the account assignment type is not mentioned. Therefore, go to the cost distribution tab > general ledger account> 
Enter G/L account and account assignment type and then check and post.   
Another invoicing method is based on inbound delivery 
For that, go to the inbound logistics work centre 
Select purchase order. Now click on post good receipt> fill up the delivery notification id, quantity etc.   
Come to the supplier invoicing work centre, and from invoice entry, take a new invoice.  
Input external document id, today's date, and posted date, like before.
Check if it shows the document contains no errors. And then it's successfully posted.   
As you can see, SAP ByDesign's Powerful financial management functionality allows finance professionals to work faster and in more detail.   
SAP ByDesign Partner
Target Integration is an SAP Partner and ERP expert with years of experience providing automation software to various small and medium-sized businesses. We have witnessed them grow and scale to good heights. With powerful integrations and insightful implementation, you can get a lot more from an SAP Business ByDesign implementation partner like us. We have offices in Ireland, US and UK.  
Contact us to know more.