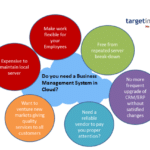 Last week I had a chance to speak to the owner of a business in South West of England who are in Fuel and energy sector. He mentioned that he tried cloud based CRM system a few years ago and wasn't able to switch over because of the abysmal speeds and poor reliability of their broadband connection. The Internet speeds have improved and the reliability is better now but he still is not sure whether it is the right time to move to cloud or not. I told him, Brett (name changed); if you are still doubtful then it is probably in your mind.
After speaking to him and giving him enough reasons and showing him all the signs around his business he was convinced and we started the project last week on moving his business management system to cloud based Order Management System.
Now, while you are wondering if it is time to move your business management tool to cloud then check the following signs and if you see any three in your business come and talk to us.
Employees' Working Habits are Changing
Your staff is probably already using the cloud. They have a smart phone, they are glued to their social media profiles, they store their files in Dropbox; they store their pictures in Google Photos and passwords in LastPass. They would like to have flexi time in business and hence access to business information at any time and from anywhere is becoming important.
Think about your sales guy, who is mostly in the field visiting clients and he wants to see if an order has been placed by a particular client, he shouldn't have to call the office and check with your order processing team. He should be able to see it quickly and easily from the ease of his sitting in his car or at a customer's office and on his mobile phone or tablet or laptop.
An Old Aging Server Which Goes Down more than the Coffee Machine
And you will agree with me on this one, if the coffee machine breaks down you will see everyone slow but if the server breaks down you will see everyone beside the coffee machine. If your current business management tool is hosted on a server which goes down regularly you should look at moving to the information to the cloud where it is always available and accessible to everyone. Believe me, it is bad not having a CRM or ERP in the Business but worse to have an unreliable business application.
An upgrade of Your CRM/ERP is no more an alternative
Customization, expenses and old propensities have kept you from moving up to the latest version of the software as every year passed and now it's past the point of return. A costly, tedious redesign/upgrade is gazing you down – attempting to take more than your lunch cash. This is an ideal opportunity to do some examination. Do the more up to date forms even satisfy desires? All things considered, intermittently these legacy ERP redesigns are only a wrap on a more serious issue – like another layer of paint on a spoiling shed. Another establishment (a cloud arrangement) may be a superior thought.
You're running laps around your ERP Vendor
Is your ERP vendor isn't reliable anymore? They may have changed the focus and are aren't giving you the same attention as they used to? There is a possibility that they may not be progressive enough and may be suggesting you to stay away from it as well. Discuss your situation with a few other ERP vendors and see their view regarding moving to cloud and compare it then.
You're developing, opening up to the world, securing or venturing into new markets
I spoke to another such business recently who told me the reason of moving to cloud was taken in order to allow them to launch their products and services in developing countries. In order to share the same level of customer service and quality it was important that the teams in Europe and Asia use the same platform and the information is easily accessible to their employees as and when required. Have you thought about it? If you would like to open offices in another part of the world, you will have to promote collaboration in the team and cloud is the most important piece of that consideration.
It is becoming expensive to manage/maintain a local server
This is the most widely recognized motivation behind move to the Cloud. Cloud infrastructure has low or in some cases no Capital Expenditure (CAPEX). The saving on CAPEX can be spent on that marketing budget which will bring you more business or another new feature in the business management system which may increase the productivity further.
Don't forget, the signs above are indicative only. Assess your own scenario individually and check if your business is ready for cloud. Let us know your thoughts and comments by using the comment box below.