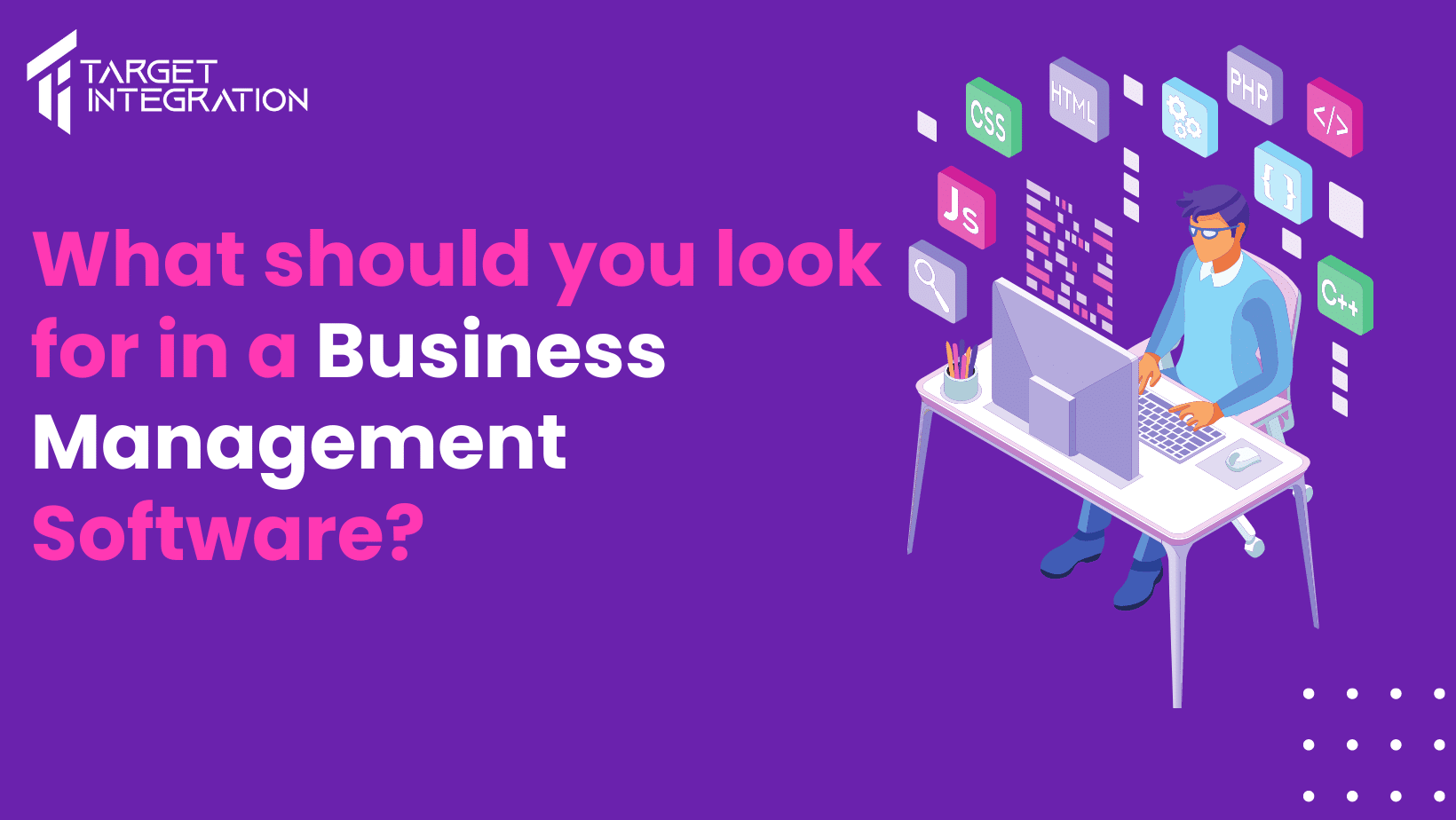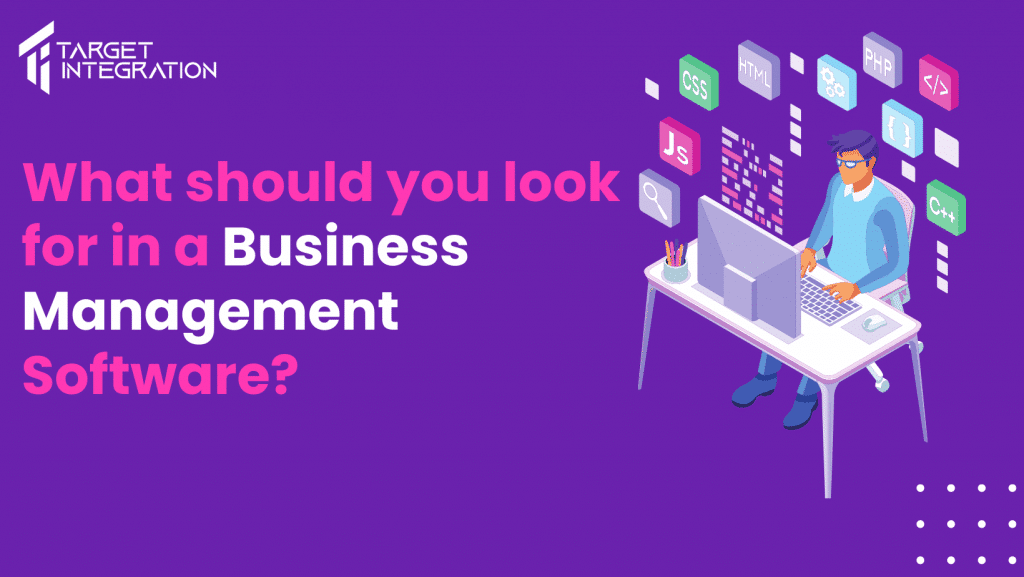 Why do you need better business management software?
If you are struggling to keep up with administrative paperwork, handling sales orders, too many reports, accounting errors such as missing invoices and wrong billing etc, it is high time you may think about introducing a business software for your business. In short, by not using business software, you might waste your money and time on processes that could be automated.  
Advantages of business management software
There are endless advantages to business management software. We can say some advantages of switching to business software as below.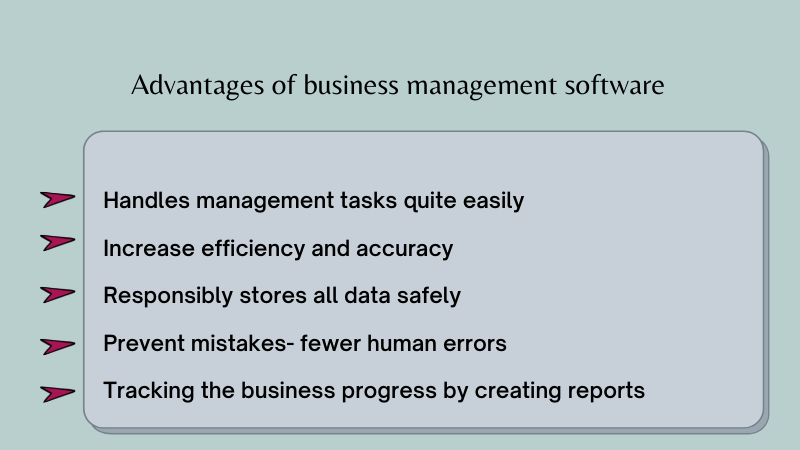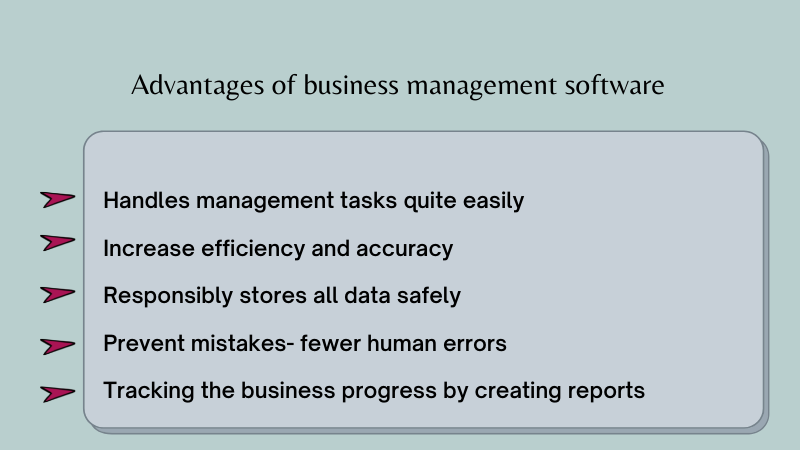 1. It handles management tasks quite easily
When it comes to management tasks, there are certain activities where notifications can be used effectively and humanely. Some are to be sent to senior management, some are to be used as a reminder, and from that, they should be able to pick up the relevant data, so that management can work perfectly. This saves time, labour, and money. 
2. It will increase efficiency and accuracy
One time entry and unified access across the software platform reduce the risks. Some automation functionalities like auto-correction tools, are added advantages that can take your business to next level.  
The use of business management software will manage the data properly and processes efficiently. It gives all your reports and dashboards which have accurate data than when you do the processing in manual methods. It will increase your accuracy. 
3. It responsibly stores all data safely
To this day and age, there's a higher risk of data breaches. Companies are being attacked online even in unconventional ways. Since most companies use a local server or cloud server for storage, data protection will become the next big question. Storage is the backbone of using business software and its protection is a huge responsibility. 
4. It can prevent mistakes - fewer human errors
Those who use manual systems in computers, or manual processes to handle day to day businesses (like excel documents), are more prone to human errors. While collaborating, we create a workflow, leaving the system to manage the data properly. If it is done in a manual way, the data is likely to have errors and needed to be rechecked. If we are managing in a system, it is more reliable. 
5. It helps in tracking the business progress by creating reports
This is the most beneficial part of business management software.  It can keep track of your businesses in one single place. Every management can use a system, to log on and see where they are standing right now. Financial standing, activities happening in the organisation, tracking of commodities, sales locations etc. can be viewed under the reports and dashboards.  
If the system comes with a compatible dashboard and report, it will save time in decision making.
What should an ideal business management software have?
 Each businesses have its characteristics. But most of them share some important needs to be fulfilled while using the software. On a survey we conducted recently, of the four options we provided, the maximum vote came for the UI/UX design of the software.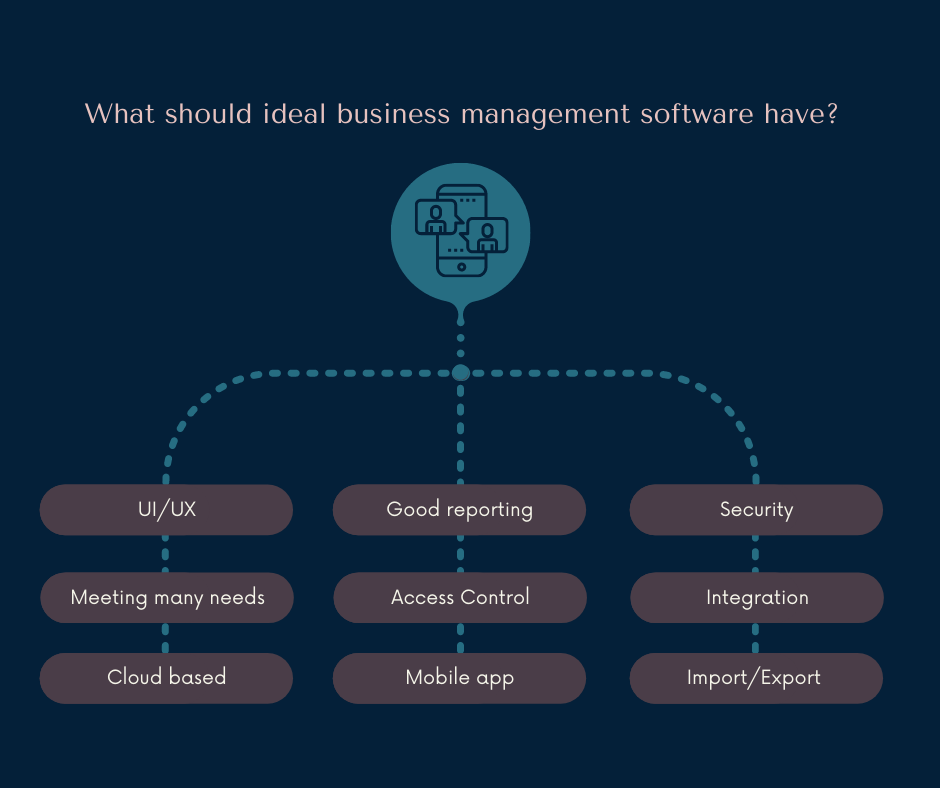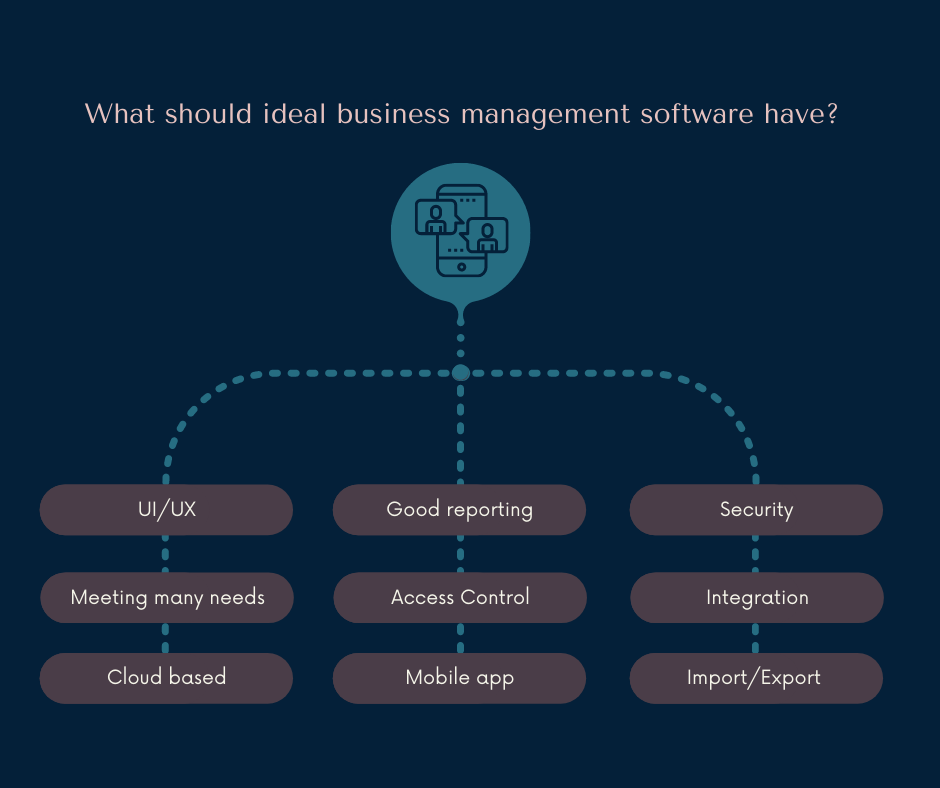 UI/UX:

The people needed an easy tool or system to work for the system. They tend to use a lot of apps, mobile etc. So, they tend to look for a system that is self-explanatory.

 

One software for many needs:

Most systems in the market focus on core areas like accounting for businesses. But there is more software available that can take care and eases out the entire business management. Sometimes we have to integrate 2-3 systems to get the process go hassle-free, but with a maintenance cost. We suggest you go for one ERP system, which would handle the entire process of a business organisation, starting from accounting, sales management, stock management, your purchase management etc. If you have combined these processes in one system, your data flow will be proper and there will be better collaboration between the teams in the organisation. 

 
Cloud base:

We know how people preferred working from home during the pandemic. If the software is cloud-based, people can work from anywhere.

And it is also going to reduce the maintenance cost in your data centre. 

 


Trying to host an application in your data centre demands maintenance costs and some resources. It needs to take frequent backup and involves maintenance processes and admin processes. If you are looking at a cloud-based solution, it can be a software as a service (SaaS).  All you need is to log in to the system (By application or web), do your daily reports and get proper dashboards on the system.

 

 

Mobile app:

People tend to prefer a mobile app for everything. Thus, an

ERP

system also demands a proper mobile application. People used to carry big devices such as laptops. But now mostly any functionality can be incorporated into a mobile phone. It eases the pain of an individual trying to run a business on the go.

 

Import and export functionality:

If you want to have a system up and running, you need to have proper data. For example, to migrate the data from an existing system to an advanced/ new system, we need proper import/export functionality without importing the data manually. Ensure that these data are in the proper format, whether there are duplicate data, etc are some other important jobs

business software

should be able to do. 

 

Good reporting-

Integration with Business Intelligence (BI) tools 


When it comes to an ERP system, every organisation looks for reporting and dashboards. That's how they monitor the company's data and take decisions based on it. The Business Intelligence or the BI tools inbuilt in the software can enhance the reporting even more with the help of artificial intelligence.  
We have internal and external BI tools. Power BI, tableau, are some of them. This system would integrate well with 3rd party BI tools as well.

 
Security:

E

RP data is to be protected with high precaution. Because in the current world, data is everything. Efficiency increases if the security increases. So, the system which has a very good security policy will be a very good system to be used.

 

Access control:

There will be a lot of departments like finance, sales, inventory etc. and under them, some specific rules. These systems should be able to assign specific access to users or groups so that they will be able to see only the records which have been assigned to them. 


Let's say, if you are a salesperson, then you will be able to see the records related to sales, but not that in accounting. While the finance department will be able to see all the data that they need to work with.  

 
Integration with existing software systems:

So far if you look at an ERP, it may cover stock management and it might cover purchase and sales management. Some ERP systems, don't have an e-commerce platform. They don't' have a point-of-sale (POS) solution. In that case, we need to have a third-party system, to be using a POS or E-com system. This system should have an API so that this solution can seamlessly integrate to fetch data and send data to smoothen processes.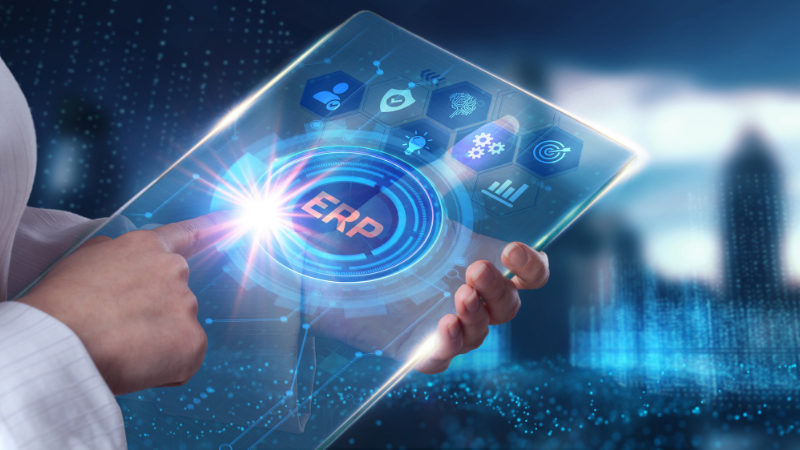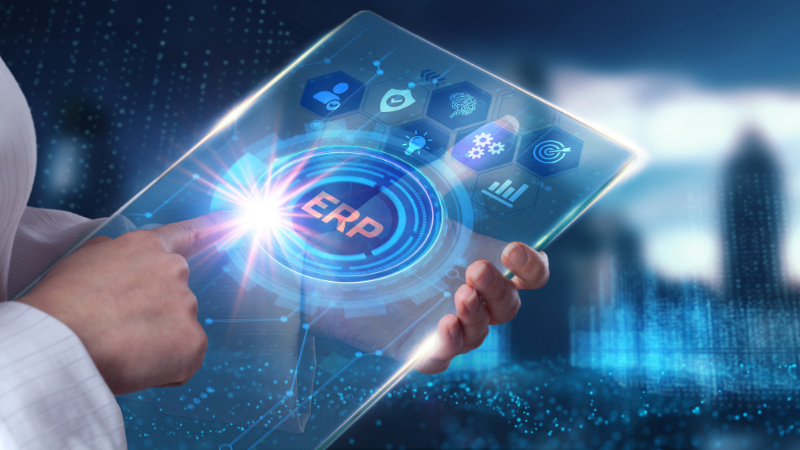 First and foremost, we understand your business. Once we comprehend, we advise and consult SMEs on the best software suitable for them. We ask where they see their companies in four to five years. We understand your plans about scaling and choosing the right software for your company.  

 

 We implement the right software for your company and not just the only companies that are partnered with us.

 

We can also customise the solution if needed. Most businesses have different processes which might not be available on the original business software package. We offer customisation, that fits your business.  

 
Train your team: 70% of the projects fail if users fail to understand. We give training in three modes. on-on-one, taking one person to train everyone else in the company or a group training session or we record the training and provide it online.  

 

We provide full support: But we are always a phone call or click away. We offer service anytime once the project goes live.

 
Why do we choose SAP Business One for ERP
SAP Business One is specifically built for small and medium-sized businesses. It even has a starter kit for start-ups, so that they can smoothly scale up.  

 

When it comes to SAP b1, it coordinates smoothly with all the sectors from accounting to sales and management. The data flow from all the sectors and integrated applications is very effective here. If you are an SME and looking for a one-stop solution for all your business needs, then SAP B1 is an effective solution.  

 

Cost efficiency, lower cost of ownership: On a competitor analysis, it was shown that basically 23% more return of investment was observed for SAP B1 users. 

 

Customisable: SAP Business One is versatile and can be customised for unique needs. We offer that expert-level customisation that your company just needs.

 

Enchanted data management: A good security policy offers you data security. Apart from all your data being secured, they are further secured from one application to another seamlessly. 

 

Faster forecasting and analytics:

SAP B1

dashboard have intuitive reports and an analytical dashboard and this can be found in a cockpit view. It gives you the flexibility to add tiles and dashboard elements according to your needs. For example, if you are a sales manager, you won't be needing all the accounting-related data in your dashboard.

 

Cloud storage: SAP Business One in the cloud is the most modern and convenient way of running a business because it is cost-effective and flexible. It reduces the maintenance cost of servers.  

 

One-stop-shop: From management to administration, accounting, financials, inventory, distribution and production, it has got all in one solution eminently working on a single production. 

 

Scalability: This is the most relevant feature when it comes to

SAP Business One

. It can adapt and scale with the business growth.

 
Need for SAP Business One
 These advanced systems incorporated in this compact software make it fancier for futuristic business visions.   
Analytics 

 

Mobile technologies 

 

Big Data 

 

Machine Learning 

 

Internet of Things (IoT) 

 

Cloud Technologies 

 
And there are some special reasons too:  Working from home during pandemics has made people realise the importance of team collaboration using efficient technology. SAP Business One has an integrated communication channel. Not only that it has an inbuilt mailing system, but it can also store and restore all the transactions that are logged in the database. 
Target Integration has been in the ERP and software implementation field and has been technologically enhancing businesses for more than a decade. It has helped SMEs elevate from papers to a database, and further down the road, from local storage to cloud. Now we are envisioning a future where we can enhance even small businesses with all the futuristic tech available out there.   
From 13 years of service, we have grown much and have offices in Ireland (HQ), the UK, the US and India.   
And from the business level approach, we identify ourselves with these qualities:   
We are solution-focused: No matter how much we are restricted by the technical limits; we will make sure of a solid solution. 

 

Technology independent: We always recommend the right software available and not just the one we are partnered with. 

 

Experts in business process: we have experts in business processes in nearly every industry. We work with hundreds of different companies. Thus, we have experts in many verticals. 

 

Business insights and analytics: We offer business insights and analytics in the key areas, almost by becoming an extra body in your company.  

 
In-house technical support: Once we deliver the project, you will always have our support 24/7. We are just a click or phone call away.  

 
Contact us right away, not just for SAP Business One, but to integrate it with, customise it or renovate your currently using business management software