Introduction
When you are building your business, you'll require various systems and software solutions at your workspace, everything from finance & accounting to staff management. Now the decision is to opt either for custom-built software also known as Bespoke Software or Off-the-shelf software which are common solutions with a lot of functionalities & features but not specifically developed for one domain.
It's worth spending some time weighing the pros and cons of both software solutions before making a final decision. To help you out, in this blog we will discuss some pros and cons for both Off-the-shelf software and Bespoke Software.
What is Off-The-Shelf Software?
An Off-the-shelf software product is developed for the mass market and this is available to be deployed and used from the beginning. Also, known as commercial software, this is a pre-packaged software solution that is available to purchase on the bulk market. We can say that this solution is a general-purpose solution that is designed to work with diverse business models. It can also be used by many users belonging to different verticals.
But be informed about the resourcefulness of the solution. While initially, you might feel there are plenty of functionalities, you may realise that the features are not relevant to your business. You might also find that there aren't enough features suitable for your business as Off-The-Shelf software is not tailored-made solutions.
Get in touch with us to explore more about the Off-The-Shelf software solutions we offer.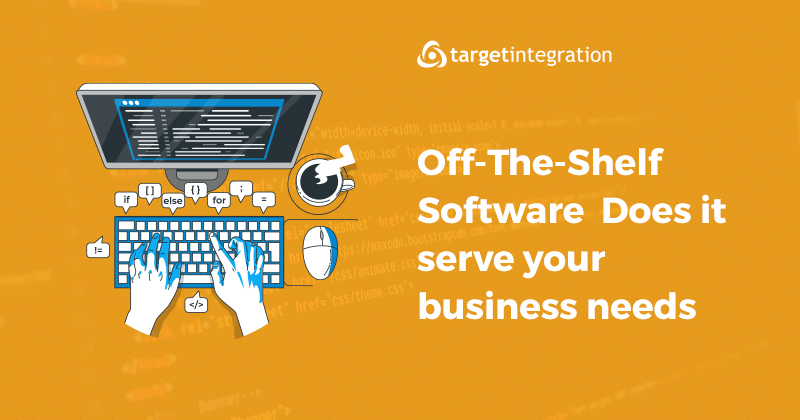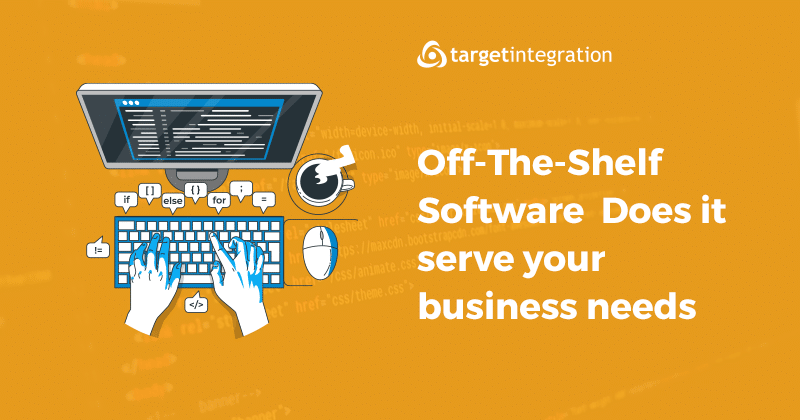 Off-The-Shelf Software: Advantages and Disadvantages
Here are a few advantages of Off-the-shelf Software
1. A lower implementation cost as it is built for the mass market.
2. Quick implementation & large community support
3. Regular upgrades, online support, and guides along with lower training costs 
4. Covers a wide range of functionalities & features for broad business functions
Having said that, many of these advantages are written off by the obvious limitations of the solutions. We have listed down these below: 
1. It is not scalable. If at all you do figure out scalable upgrades, it will come at a hefty cost that is associated with up-gradation and support.
2. Unnecessary features or functionalities & overly complicated features make it difficult to introduce them to users.
3. Software drives the business and process and therefore you might need to compromise on requirements or functionalities sometimes.
4. It has a lack of integration with legacy systems.
5. Very limited options for customization
6. It has a higher maintenance cost per user.
Why do you need a Bespoke Software Solution?
Bespoke Softwares are tailor-made solutions and are commonly known as custom software. Similar to a bespoke suit, the Bespoke solutions are precisely developed and tailored entirely across the demand set of the company's exact specifications. 
Most importantly, Bespoke software is made for individual businesses and you are the owner of the complete source code, therefore, you have complete control over the system upgrade and integration with any third-party packaged software in case you want to update & expand your core functions.
If you are looking to develop your bespoke software, Target Integration can help you craft the perfect solution. Discuss your needs here.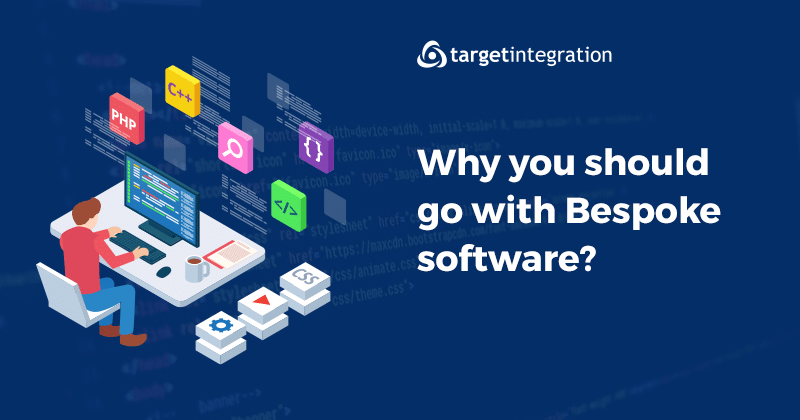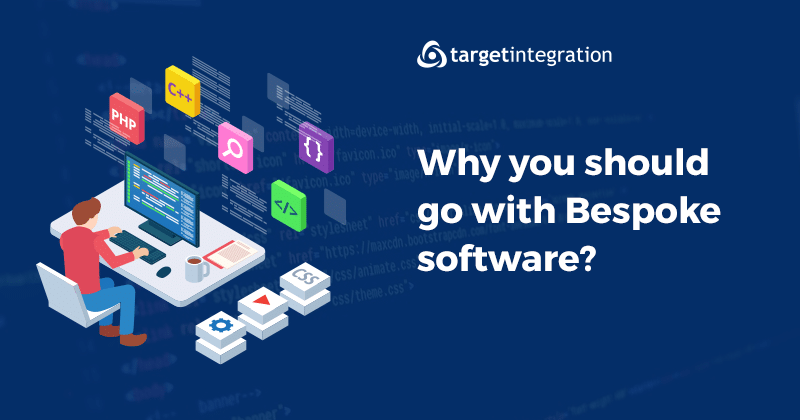 6 advantages & 4 disadvantages of a Bespoke Software
We have outlined a comprehensive list of the advantages of Bespoke Software-
1. Flexibility, better scalability & no extra per-user fees, leads to a higher ROI
2. Tailor-made for your business, therefore there are no unnecessary functionalities 
3. Control of Data along with Integration with third-party systems
4. Easier to use and adapt. It grows with the company, follows company processes
5. Customized for better user experience with personalised support
6. Provides a competitive advantage to your business
Bespoke Software Disadvantages –
1. High initial & upgrade costs as all features are custom-made.
2. Requires more in-house experience to deal with new features & further enhancements
3. Custom functions development might delay the deployment increases waiting time
4. Low-quality development can lead to unstable systems and reduce ROI, if not handled properly.
Off the Shelf v/s Bespoke Software
Increasing demand for 'Modern + Intelligent'  software solutions is driving today's businesses to shift  & rethink their strategies and also work on innovative ways to cater to business requirements.
Take your business to next level with our best-in-industry CRM/ ERP software partners such as individual business applications, Odoo ERP, Microsoft Suite (Microsoft Dynamics 365, Microsoft office 365 ) Vtiger CRM, Google Workspace, Zendesk, Salesforce, ClickDimensions, PipeDrive.
For both employees & end-users, an organisation has to weigh all the pros & cons of the system they decide to go with. An in-depth analysis has to be done with software experts to churn out the disadvantages and make a prolific software system best suited for implementation. Our approach most certainly will benefit you to achieve valuable software solutions. Ask for a personalised demo for your business today! 
Target Integration offers both Off-The-Shelf & Bespoke Software solution/s
Ultimately, it all depends on your business functions & core operations. Whether you need Off-The-Shelf Software or you require custom solutions such as a Bespoke Software, it must align with your business positioning.
However, if you are not sure which way to go, it is best to consult with experts & share your requirements & discuss your concerns. You can also opt for personalised demos with our software consultants at Target Integration.  We can help you choose the right option – whether it's a ready-made solution or a tailored product. 
With more than a decade of experience in the IT industry, Target Integration gives you unbiased advice & honest recommendations.
Our software services include Software Consultancy, Software Implementation, Software Customisations, Software Migration, Software Testing, Software Support & Mobile Application Development.