In a data-enriched world with so much data available for business processing, data is next to nothing if not properly analysed with definite objectives. Business intelligence is nothing other than making use of artificial intelligence on available data, for your business goals.  
What is business intelligence?
Big data is precious to today's business. Customers' location while buying, people's preferences, age range etc are good data. They can be scraped from public sources, or collected directly. These data are useful only if we treat them with proper analysis with relevant objectives.   
How does Business Intelligence work?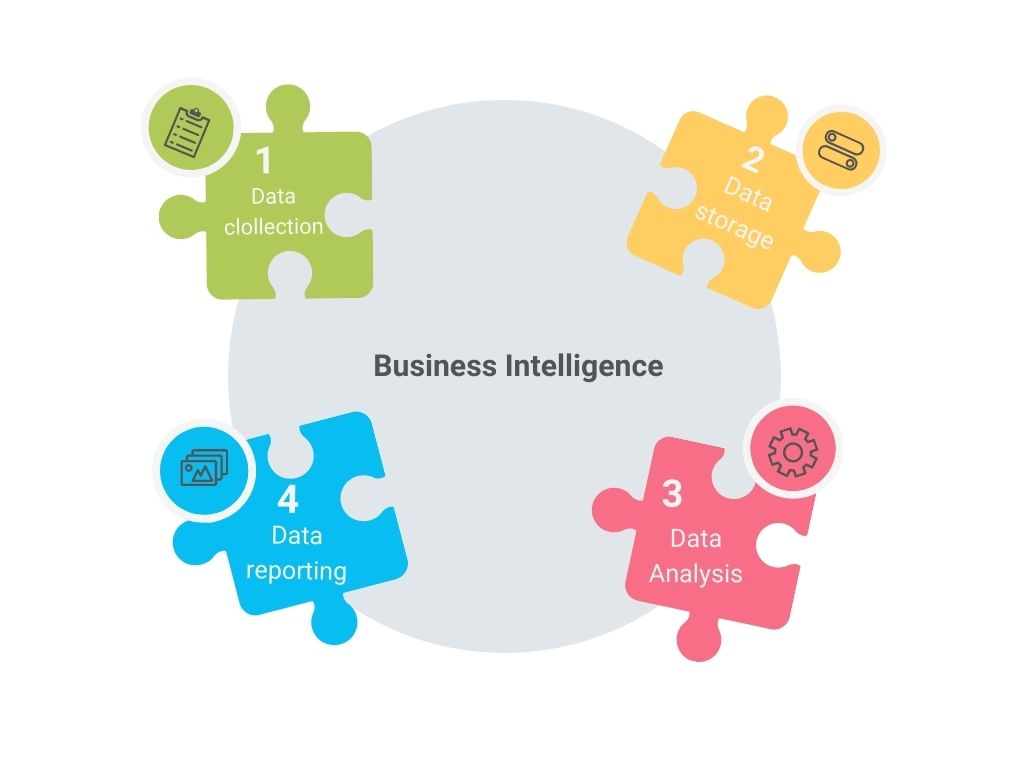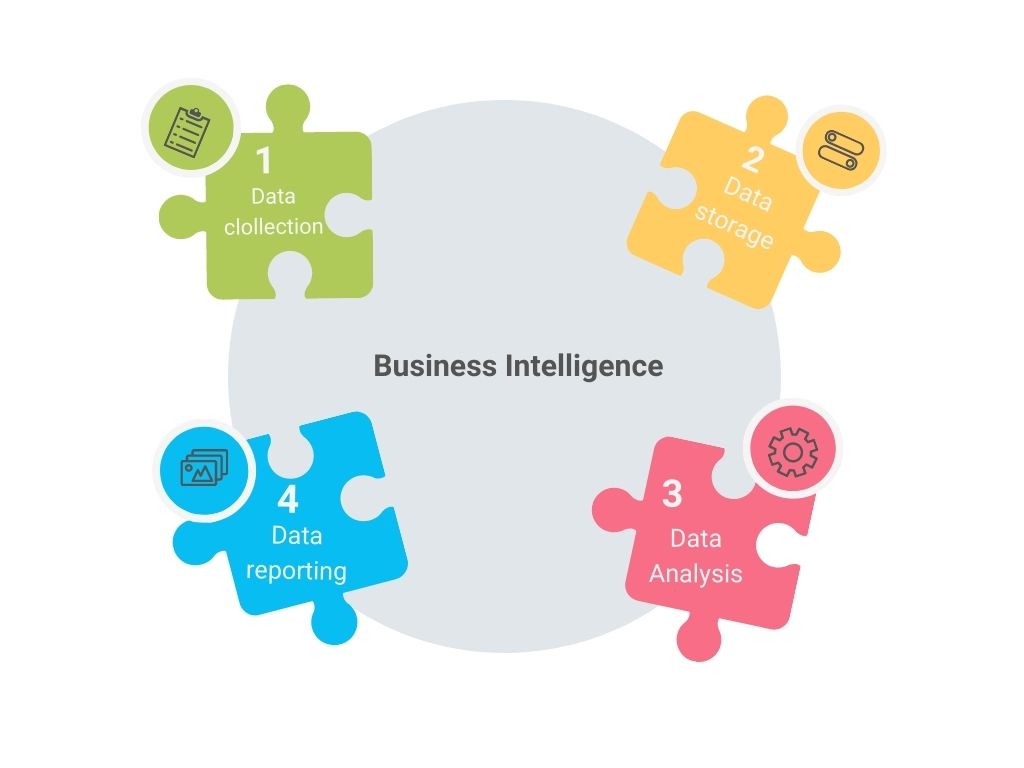 Business intelligence, like any other smart analytics, has 4 main objectives:  
Data collection

: From the current software (be it CRM or ERP), data is collected in a pre-determined format.

 

Data storage

: It should be able to store big data. For efficient functioning, data storage should provide good speed and backup. Enough security is needed accordingly. Data might be subjected to privacy and it should be protected with good investment in security. 

 

Data analysis:

Data analysis is the core part of BI. We should have some pre-determined objectives in mind to extract useful insights. For example, How the company is financially performing? Why there is a problem with supply in this quarter? Etc.  

 

Data reporting

: Business Intelligence combines analytics, data tools, and data visualisation. Finally, the data is reported in good and interactive visuals instead of data charts and traditional graphical representation. 
Main benefits of business intelligence
Accurate and fast reporting:

Reporting is prone to good data- data that is clean and formatted. A Business Intelligence tool can simply do autocorrection of data so that you don't need to worry about entering the name in Caps, or entering a number in the field of words. These small auto-corrections of data from the time of data collection, or while processing will reduce the time and improve the quality of reporting. Some software offers interactive reporting, reducing the mess of over information out of sight.  

 
Valuable business insights:

Any reporting, if put effort into, can give insights. With BI tools, we get almost all mathematical ways of data analysis in one kit. And you don't have to worry about how to use it. Your business stakeholders don't have to know everything about the technicality, of the end-user interface. It is often so designed to be used by personnel from all departments. Although in the end, the decision-makers have the final word. The role of business intelligence in aiding decision making is not feeble. 

 
Competitive analysi

s: A large amount of data and an analysis designed around that often gives a competitive edge. A hand of BI in budgeting, planning and forecasting is sure to end up with magical results if compared to the traditional way of running a business. It simply reduces the manpower and time it takes to budget, plan and forecast- A huge ROI. We can also gain helpful insights about competitors and our field of competition via business intelligence if the data is public. Businesses can also track their competitor's sales and marketing performance and learn how to differentiate products and services. 

 
How do major companies use business intelligence?
Major companies already use business intelligence. Most of the reporting tools, or software suits have a business intelligence tool implemented with them.  
For example, SAP ERP has a Business Intelligence functionality to read scanned copies of invoices and convert them directly to enter into the database, this helps hugely in reducing the time to process data on paper. This is just a simple form of AI.   
There is bigger use of artificial intelligence when it comes to forecasting. Forecasting is based on previous data and current data. It sees the unseen corners and eliminates mistakes and accidents. And these functionalities are already implemented on software suits for large scale industries.  
Business intelligence tools and platforms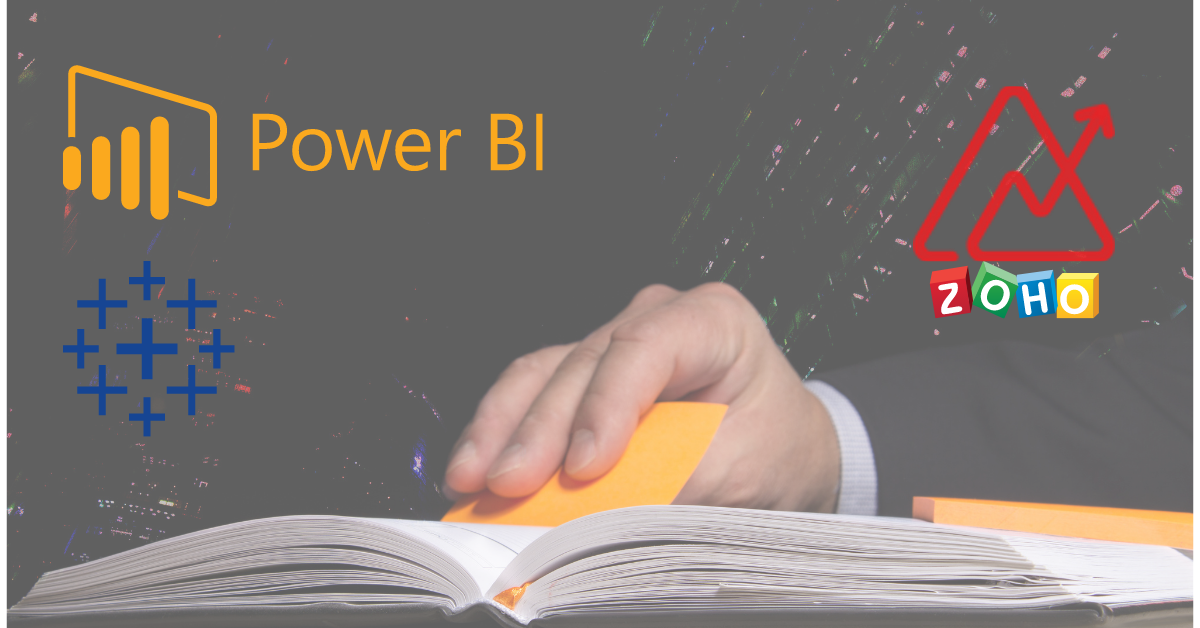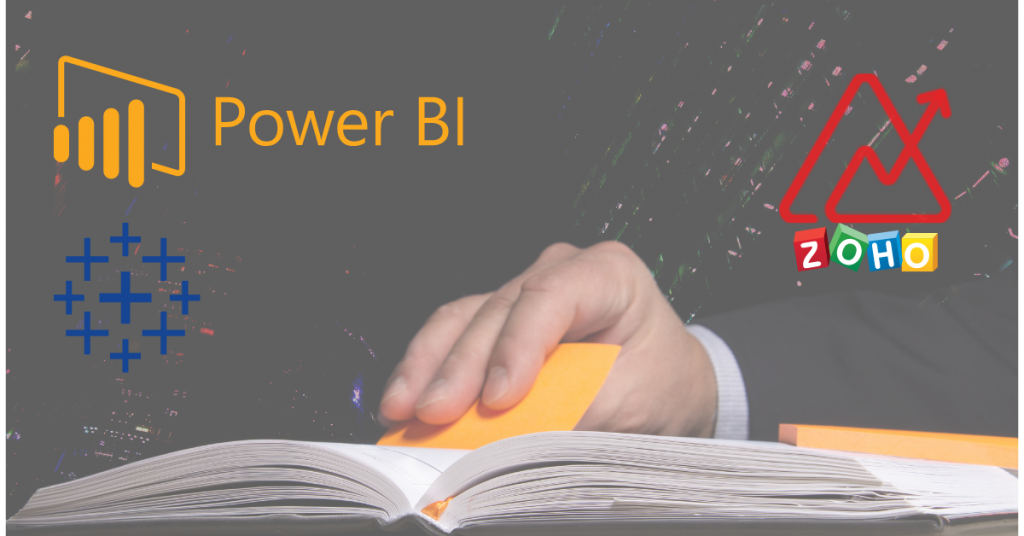 When it comes to business intelligence, there are simple to complex utilities and tools to come in help. There are a lot of web-based, or app-based tools available for simple purposes, to inbuilt applications.   
Nowadays almost most business software offers an ample amount of intelligence applications in their software suit itself. These account for decent modern business analytics. But you can use extended analytics if you want with other core data analysis tools like Power BI, Tableau etc.
Using business intelligence in your small/medium business
Simple tools

: Small/ medium businesses can opt for business intelligence that is freely available.

 

Since most business software like Customer Relationship Management and Enterprise Resource Planning software nowadays comes with integrated applications, you can rely on one such software and make sure it is the right one for your business and has the right business analytics that your business needs.  

 

Implementing partners

: If you choose to approach a vendor like us, we can

implement

software and maybe introduce a customisation/ extension of available intelligence tools/ automation add-ons to your software.  

 

Freelancing

: This is also an available option these days. Certain business data can be handed over to specialised data analysts in order to solve a problem or to find new options for specific processes. The consulting data analysts might use a data analysis tool along with programming to decode and present you just the thing you needed for the time being.
How Business Intelligence drives digital transformation?
BI turns raw data into actionable information which in turn ends up in good decision making. It aids in taking the right path according to the current and previous data. Although completely computerised, it doesn't mean it cannot provide humane insights. Intelligence used in communication bots is the most relevant example when it comes to human-like experience from artificial intelligence.  
Implementing business intelligence along with your current software systems
If you are a business owner who has known the power of business software, you already have tasted a bit of artificial intelligence/ business intelligence working on them. But when you need more, specific data insight, you can in fact connect data analysis tools to get the most out of your system. For example, SAP gives a good opportunity to link the software, be it SAP Business One or any other product of SAP to Microsoft Power BI
To know more about getting the most out of sap b1 using power bi, watch the webinar here:  
Implementing a Business Software and making the most of BI
The motto of Target Integration is to empower small and medium-sized businesses with the most powerful technology available. We have been empowering several businesses for over 14 years in Ireland. We have other offices in India, the UK and the US. Please check us at our nearest offices for any of your business's digital transformation needs.  
To get the most out of Business Intelligence in your current business software or to implement them in your systems, contact our experts.